More Information
The Way of Saint James
Plan your Trip
| | | | | | |
| --- | --- | --- | --- | --- | --- |
| The Pilgrim's Passport "Credencial" | | | | | |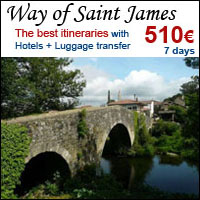 The "Credencial" or pilgrim's passport is the modern version of the "documents of safe conduct" which was given to medieval pilgrims.

It is only intended for persons who make the pilgrimage with a Christian motivation or at least for spiritual searching and do it walking, on horseback (at least the last 100kms) or cycling (at least the last 200kms).

The Credencial gives you no rights but has two practical purposes:

- To obtain the Compostela, the document which certifies that the pilgrimage has been successfully completed, from the Cathedral of Santiago.
- It allows admission to the "Albergues", the pilgrim's hostels, which offer Christian hospitality along the way.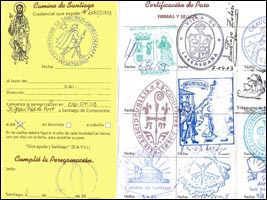 The Credencial is printed on card and consists of 14 pages. The first page is a letter of recommendation and should be filled in with the pilgrim's details by the organisation issuing it. Then, it has pages with room for the stamps which should be collected in Churches, hostels, town halls, and other places along the route to Santiago.

Pilgrims should obtain at least two stamps per day. You must ensure that you do this at least during the last 100 km on your way to the Cathedral of Santiago if you are walking by foot or on horseback, and 200 km if you are making the way by bicycle.

Finally, there is a special space for the final stamp you receive at your arrival to Santiago, and some maps and directions how to use.
Where do I get the "Credencial"?
You can get the "Credencial" in person at the Pilgrim's Office in Santiago or from other organisations authorised to distribute this official document, such as Churches, religious associations, albergues etc. These travel packages for the Way of St. James by foot or by bicyle already include the Credencial in your travel documentation.


More information about the Way of Saint James >>>
History and Legends | Information for pilgrims | Routes to Santiago | Accommodation on the Way | The "Albergues" or Pilgrim's Hostels | The Compostela document | The Pilgrim's Passport "Credencial" | Tips for luggage