More Information
The Way of Saint James
Plan your Trip
| | | | | | |
| --- | --- | --- | --- | --- | --- |
| The Way of Saint James: Recommendations for luggage | | | | | |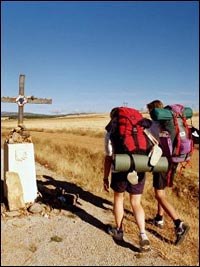 You should carry on the way as little weight as possible, preferably not more than 10% of your body weight.

Worth considering is to use a luggage transfer service, so you have to carry a bare minimum on the way while the rest of the luggage is transported by car from hotel to hotel.

Here are some tips to absolutely necessary and recommended things:

Shoes: Very important are comfortable shoes, never use new shoes! Ideal are hiking boots, possibly (waterproof) sports shoes. For the evening, after the hike, you should have also light shoes like sandals.

Clothing: Again, the less weight and the more comfortable, the better! Recommended are lightweight shirts, comfortable trousers, and good socks to prevent blisters, a cap and a rain jacket. In the cold season of course you need to carry a warm jacket!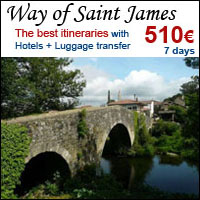 Toiletries: carry only the most necessary in small vessels. If you are staying in hotels, you will find there soap and shampoo.

Water: in any case carry enough water in a plastic bottle which you can fill up on the way.

First aid kit: Plaster and gauze to help with blisters and small injuries. It is also very useful to bring insect repellent and solar protector.

Documents: Passport, travel insurance, credit card, pilgrim's passport = Credencial, all protected from rain in a plastic bag.

If you want to carry a photo camera, it should be neither too big nor too heavy.


More information about the Way of Saint James >>>
History and Legends | Information for pilgrims | Routes to Santiago | Accommodation on the Way | The "Albergues" or Pilgrim's Hostels | The Compostela document | The Pilgrim's Passport "Credencial" | Tips for luggage