More Information
Plan your Trip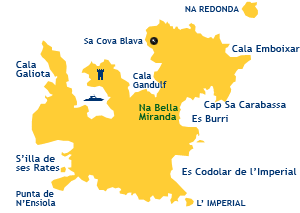 When visting Cabrera, located just face to face to Mallorca's southern coast, and its lonely beaches, you might really feel like Robinson Crusoe. Cabrera was declared a nature preserve in 1991, since then access is controlled by ICONA (the Spanish National Institute for the Conservation of Nature).

The archipelago consists of the main island, Cabrera, and 18 smaller islands. With over 450 species of plants and over 150 species of birds Cabrera is a unique and also very sensible ecological system. This is why only a small part of the island around Puerto de Cabrera may be visited by tourists.

Diving is allowed only in the bays Cala Galiota and Es Dimoni, however these are true paradises for divers. Obviously in all the natural preserve it is forbidden to fish, hunt and collect minerals or plants.

There is a tourist information center about the Cabrera-archipelago in Col˛nia de Sant Jordi on Mallorca, (Centre d'Interpretaciˇ de Cabrera ) where potential visitors can get informed on the natural beauties of the islands and the formalities necessary to visit the natural park.