More Information
Plan your Trip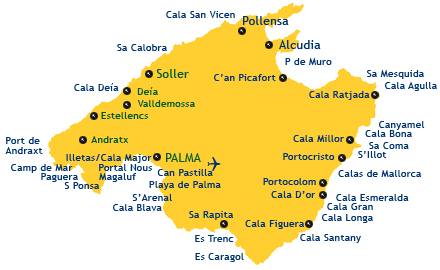 Most visitors spend all their holidays at the beach where their hotel is located and do not consider how attractive can be a tour through the island.

Let us start with the capital, Palma de Mallorca, and its beautiful bay, Bahía de Palma. The way from the port to El Arenal is ideal for an excursion by bicycle. At those just 16 kilometers, all the time along the seaside, you will see the beaches El Portixol, El Molinar, Coll d'En Rebassa and Can Pastilla, before arriving to the final destination, el Arenal.

Illetas and Santa Ponça are other great beaches with fine sand and crystalline water.

Another recommendable excursion from Palma is the mountain range Sierra de Tramuntana in the North-East, parallel to the sea. You should visit the picturesque village Calvía, located in typical mediterranean landscape, with its Romanesque-Gothic church Iglesia Parroquial and the 18th, century castle Castillo de Bemdinat.





On the way to Andraitx you will pass romantic fishing villages and some of the island's most outstanding landscapes. Camp de Mar is a most beautiful bay with a small island at its center, and Puerto de Andraitx is a natural port surrounded by pine woods. Andraitx itself has to offer a fantastic view over the coast, as well as some interesting monuments: its church, Iglesia Parroquial, and the house palace of Son Mas. San Telmo is, without doubt, the most visited port at the island. Major attractions are its 16th. century fortress and the ruins of the Sa Trapa Monastery nearby. It is also the starting point for excursions to the beautiful island Isla Dragonera.

Taking the road N-710 from Andraitx and driving along the marvelous coast, you should pay special attention to Puigpunyent with its beautiful cultures of olives and almonds and Valldemosa, with its Real Cartuja

where Chopin spent the winter 1838/39, and its charming port. Deiá,

is a beautiful village with architectonical constructions in remarkable harmony with nature. Another attraction is Deiá's unique cementery. Bahía de Lluc Alcari

is another most beautiful beach.

Soller

, with its manorial houses, is another must see. It has as well a curious tramway leading to the port, and a romantic fishing port. Monuments to visit are the neo-gothical church Parroquia de San Bartolomé, the museum Museo de Soller and the Convent of San Francisco. Very close to Soller there is Biniaraix

, an outstanding example of typical mallorquinian architecture. Narrow mountain roads through marvelous landscapes lead us to Sa Calobra with the monastery of Lluc, located at one of the highest peaks of Mallorca. Nearby there is the small village Escorca, with an interesting museum.

Pollença, a very picturesque place, is located at the foot of two hills. Both offer a splendid panorama. Pollença's museum includes paintings, medieval arts and an interesting zoological collection. Worth a visit are also the 16th century tower Atalaya de Formentor, the ruins of the 14th century castle Castell del Rei, the Greco-Roman temple Parroquia de Santa María de los Angeles, the sanctuary of Puig de Maria, and the Calvary Mountain

. Its "Via Crucis" leads to a 14th century oratory. The fishing port Puerto de Pollença, at 6 kilometers, has become an artists' colony, founded by Anglada Camassara, whose works are exposed in the museum. Also the birthplace of poet Costa i Llobera can be visited here. Just a few kilometers from Pollença you will find the marvelous beaches Cala de San Vicente and Playa de Formentor.

Located at the other extreme of the Bahía de Pollença there is the medieval town Alcudia

. Take yourself time to have a walk through its narrow lanes flanked by house palaces of 16th and 17th century and to see its church, Iglesia Parroquial, its town-gate, Puerta de la Ciudad, and its Roman Theater

. The road N-717 leads us to Inca, known for its highly reputated textile and shoe production. Worth a visit are, apart of the Cathedral, its wine cellars with huge barrels called botes congranyades. The nearby mountain Puig de Santa Magdalena offers a great panorama. Now, via Binissalem, you'll arrive back to Palma.

Taking the N-717 from Palma direction South-East, you should visit Llucmajor and the outstanding landscapes around, as the well-known Bahía de Pi

. The fortifications of Santanyí

remind us of a time when pirates from the neighboor island Cabrera frequently attacked the town. The old town-gate, Porta Murada, is still conserved. In Felanitx, well-known for its wine production, you should visit the church Iglesia Parroquial and the Sanctuary of San Salvador.

Manacor is the second town in size on Balearic Islands. It has an important production of furniture, glass and artificial pearls. Its Archaeological Museum, with an important collection of prehistorical and paleochristian objects, is well worth a visit. The nearby Petra was the birthplace of Fray Junipero Serra, foundator of missions in today's California. You may visit the house where this monk was born, the monastery of 17th century, and the hermitage of Nuestra Señora de Bonany. Porto Cristo is an area of high touristical importance. Major attractions are the beautiful natural caves Cuevas de Drach, with a subterranean lake, the Acuario showing the submarine fauna of Balearic Islands, and Exotic-Park with a wide variety of cactus and exotic birds. Continuing your way along the coast you pass most beautiful bays, as Cala Millor, located at the Bahía de Artá. Artá is highly interesting thanks to its richdom in monuments: its castle, several small palaces, the San Francisco Monastery, Iglesia Parroquial, and a museum with important prehistorical objects. In Ses Paises were made important findings of the megalythical epoch. Last but not least let us mention the beautiful natural caves, Cuevas Naturales de Artá, and the fantastic view over Bahía de Alcudia which you may enjoy from Capilla de Betlem.

The picturesque fishing village Cala Ratjada with its 13th century castle Castillo de Capdepera has been converted into a residential area. You should visit the Jardines de Casa March, a very important private collection of modern art, the giant 12th century tower Torre de Canyamel, and the beautiful Cala Mesquida.

Bahía de Alcudia is certainly one of the island's most outstanding places. Enjoy the view from Monte San Talaia! And do not miss the beaches in its South as well as Puerto de Alcudia. Worth a visit is also the natural park Parque de la Albufera. Cyclists should know: there is a bicycle path of 12 km length around it.

More information: Balearic Islands | Mallorca | Palma de Mallorca | Nightlife | Photo Tour