More Information
Plan your Trip
| | | | | | |
| --- | --- | --- | --- | --- | --- |
| San Cristobal de la Laguna: The former capital | | | | | |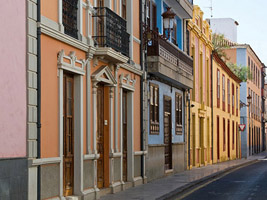 San Cristóbal de la Laguna was formerly the capital of Tenerife and has the most important university on Canary Islands.

This small town boasts numerous monumental buildings and has been declared a World Heritage Site by UNESCO.

La Laguna was founded in 1497 and the first houses were built around the church Iglesia de la Concepción, the oldest church of the island. In 1500 a concept for the further expansion of the town was developed, and it included philosphic principles as well as principles ruling the navigation of the epoch. This entire old town, with more than 600 buildings in the characteristic Mudejar-architecture, is conserved intact.

La Laguna claimed its greatest importance in the 17th and 18th century, when the town grew considerably.




Among the most important religious buildings of La Laguna, there are the church Iglesia de la Concepción (as already mentioned above), the church Santo Domingo, and the convents San Juan Bautista, Santa Catalina de Siena and Real Santuario del Cristo de La Laguna. Examples of civil architecture which have to be mentioned are the palaces Casas del Corregidor: Casa Alvarado Bracamonte, Casa Riquel, Palacio de Lercaro and Palacio de Nava.

More Information: Canary Islands | Tenerife | The Beaches | Santa Cruz de Tenerife | Puerto de la Cruz | Excursions | National Park El Teide | Photo Tour