More Information
Destinations
Plan your Trip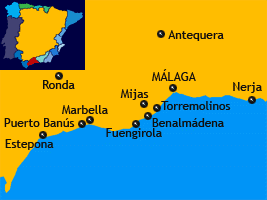 The southern coast of Spain, known as the Costa del Sol (Sun Coast), is one of the most popular travel destinations in all Europe. And this is not surprising: the many miles of sandy beaches, a wonderful climate with more than 3,000 hours of sunshine a year, the mild Mediterranean sea, extensive sports and leisure facilities, relaxed atmosphere and excellent food are some very good reasons to spend your vacation just here. It is also a great place for avid golf players, as on the Costa del Sol you will find the biggest concentration of golf courses in Europe (hence it's sometimes nickname Costa del Golf).

The Costa del Sol stretches over 300 kilometers from the Strait of Gibraltar to the east to the province of Granada, where it borders the Costa Tropical (Tropical Coast). The vast majority of the Costa del Sol, however, belongs to the province of Malaga. In Malaga, there is also the most important airport of the region, and the beautiful beaches just outside the capital are the best known and most popular of the entire coast.

Moving from Malaga to the west, one reaches just after a few kilometers Torremolinos, which has become already during the 1960s the center of international tourism in the area. Moving further to the west one finds lined up other well-known tourist resorts: Benalmadena, Mijas and Fuengirola. The next stop is then the chic Marbella, which is well worth a visit. A little quieter than the previously mentioned places are San Pedro de Alcantara and Estepona.

But despite all the enthusiasm about these beautiful beaches we will not forget that from the Costa del Sol you can also take wonderful trips to the inland: north of Malaga rises a steep mountain range, and only a few miles from the coast you will find landscapes and villages which could not be more original, as the picturesque white villages of Casares and Ojen, the monumental city of Antequera with its prehistoric dolmens, and not least of course the incredible Ronda, almost a must-see if you are already in this area.

The eastern part of the Costa del Sol as a whole is less crowded than the above-described West. Beautiful Resorts are found in the Axarquia region, especially the town of Rincon de la Victoria, where you can visit a prehistoric cave, the Cueva del Tesoro. According to an an old legend, there is a Moorish treasure hidden until today. Special mention must of course be made of Nerja, which is worth a visit not only for its splendid beaches, but it is also a recommended destination for excursions.