More Information
Plan your Trip
| | | | | | |
| --- | --- | --- | --- | --- | --- |
| TOLEDO: "Like a Travel through History" | | | | | |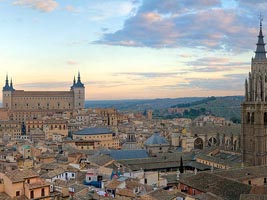 Toledo is one of the most important centers of european medieval history. The first one to report about it was Roman author Titus Livius, who describes it as a "small fortificated town", and fortification has always been an important parameter in its history, still evident to today's tourist for the monumental walls around, and the "Swords of Toledo" gave to its steel-production world-wide fame.

Toledo was capital of Spain from the Gothic epoch until 1560, fact that explains its really impressive medieval architecture. Walking through its streets one feels like having stepped back into the Middle-Ages, but in the best sense of it, and perhaps you will search your pockets for a few gold-ducats to buy some of Toledo's fine artisany or just to enjoy of its highly recommandable cuisine.

Being that close to Madrid, of course it is an ideal place to visit if you are in Spain's actual capital.