Destinations
Plan your Trip
The Regions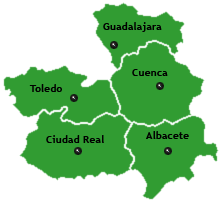 Capital: Toledo
Provinces: Albacete, Ciudad Real, Cuenca, Guadalajara and Toledo

Castilla-La Mancha, located at the very center of the Iberian peninsula, is dominated by an extense tableland, although there are mountainous landscapes too.

Of major interest to the visitor are of course the monumental cities and towns of great historical importance, like Toledo, the enchanting Cuenca and Albacete, but one should take as well several interesting alternative routes into consideration, among them: Ruta de los Pueblos Negros ("Route of the Black Villages"), having their name from the use of slate in their traditional architecture, the "Route of the Saffron Fields", "Route of the Castles", and the "Route of Don Quijote", named after Cervante's legendary "Man from La Mancha". Still today you will see many of those characteristical windmills Don Quijote was fighting with in all the land.

Traditional gastronomy is simple but tasteful, with stews, game, sausages and the famous Manchego cheese. The region's excellent wines are a perfect match.

Artisany is varied, from ceramics and embroiderings to the famous Swords of Toledo and Knives of Albacete.


The Cities:

Toledo
The former capital of Spain is certainly one of the country's architectonical treasures, with magnificent monuments specially from Moorish, Mudejar, Gothic and Renaissance periods. Toledo was also the hometown of the great painter El Greco.

Cuenca
This enchanting medieval city, declared Patrimony of Humanity by UNESCO, is surrounded by landscapes of incredible beauty. Among the town's most remarkable sights are the famous "Hanging Houses",

the Gothic cathedral and the Museum of Abstract Art. In its surroundings there are several fantastic natural preserves, among them Ciudad Encantada, the "enchanted city", where erosion has created most bizarre forms.

Guadalajara
Major attractions are the Mudejar style church Santa Maria la Mayor, the 15th century palace Duque del Infantado, the Moorish town-walls and bridge over Henares river, from 10th century. In the province of Guadalajara the medieval town Siguenza, with its great fortress and cathedral, is worth a visit.

Ciudad Real
This city is marked by the history of Don Quijote who is said to have fought against the windmills at the nearby Campo de Criptana.

The nearby Lagunas de Ruidera, consisting of 17 lagoons, offer splendid landscapes.

Albacete
A modern and functional city, located at the typical plains of La Mancha. It is known for its knife-making industry.