More Information
The Way of Saint James
Plan your Trip
| | | | | | |
| --- | --- | --- | --- | --- | --- |
| The Way of Saint James: The Compostela document | | | | | |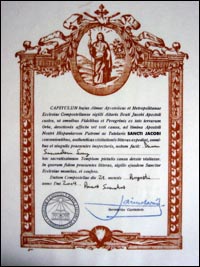 From the earliest days of pilgrimage there was a desire to have the completion of the journey recognised in some way. Pilgrims used the scallop as a symbol showing the have arrived at the Tomb of St James.

However, from the 13th century onwards documents called "evidential letters" were used as a more effective way to prove a successfully completed pilgrimage. These were the direct predecessors of the "Compostela" document.

The Compostela used to be an important and useful document for pilgrims. In the 16th century the Catholic Monarchs ordered the construction of the "Royal Hospital" for pilgrims in Santiago, and on presentation of their "Compostela" pilgrims were allowed to stay there for three days. This building is today the parador "Hostal de los Reyes Católicos".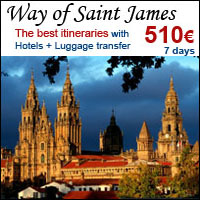 To receive the Compostela document you need:
1) To have made the pilgrimage for religious reasons or for a similar motivation such as a vow.

2) To have walked or travelled on horseback at least the last 100kms, or cycled the last 200kms, to arrive at the tomb of the Apostle in the Cathedral of Santiago de Compostela.

3) You must collect at least two stamps per day on your "Credencial". These stamps can be obtained at Churches, Town halls, Albergues and other places along the Way of St. James.


Where can I obtain the Compostela document?
You can get your Compostela at the Pilgrim's Office (Oficina del Peregrino), Calle Vilar 1, which is located next to the Cathedral.

Office hours:

- In the summer season (from Palm Sunday to Oct, 31st) Mo - Sun 9 a.m. to 9 p.m.
- In the winter season (Nov. 1st to Palm Sunday) Mo - Sun 10 a.m. to 8 p.m.
In winter, on Sundays and Festivities, the office is closed from 2 - 4pm

The Pilgrim's Office is closed on December 25th and January 1st. If you arrive to Santiago on these days you can get your Compostela in the sacristy of the Cathedral.


More information about the Way of Saint James >>>
History and Legends | Information for pilgrims | Routes to Santiago | Accommodation on the Way | The "Albergues" or Pilgrim's Hostels | The Compostela document | The Pilgrim's Passport "Credencial" | Tips for luggage