Destinations
Plan your Trip
The Regions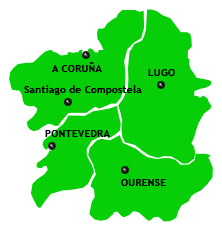 Capital: Santiago de Compostela (A Coruña)
Provinces: A Coruña, Lugo, Ourense and Pontevedra

Galicia is known in Spain as the "land of the 1000 rivers". Those rivers cross all the region

from the mountainous inland to the coast, where they form the characteristical "Rias". The coast itself offers great contrasts, from the smooth beaches of As Mariñas to the dangerous cliffs of Costa de la Muerte, the "coast of death".

The climate of Galicia is tempered, and specially in winter, with minimal temperatures of about 5 degC, quite rainy. During the summer season, maximum temperatures are around 20 degC. Galicia's richdom in water and its Rias are characteristical for its nature. At the area of Rias Altas you will find magnific beaches, impressive towns and beautiful fishing villages. Rías Baixas are worth a visit for their natural preserves and balnearies, as A Toxa. The inland shows green landscapes and romantic villages.

The first cultures which left their tracks in Galicia were Celtic, while Romans left as a legacy the walls of Lugo, the bridge of Ourense, and the Tower of Hercules. Middle Ages were marked by the discovery of the tomb of the Apostle Santiago (Saint James). Thousands of pilgrims made their way to the cathedral of the newly founded town Santiago de Compostela, and the world-famous Way of Saint James (Tip!

) which is flanked with numerous churches, monasteries and chapels of high historical-artistical value, was formed.

Galicia's folklore clearly shows its Celtic and Gaelic origins, and the most characteristical musical instrument is the Gaita (bagpipe). Regional gastronomy is of great reputation for its excellent fish, Empanada Gallega (a typical pie of fish or meat), traditional sweets prepared in some monasteries (where the recipes are kept in secret jalously), and the Ribeiro wine.





Major attractions:

Santiago de Compostela
The capital of Galicia and final destination of the famous pilgimage way is certainly among Spain's most beautiful cities.

A Coruña


This city, of high economical importance, is located at a peninsula. Major attractions include the Romanesque churches, the synagogue and the old quarter which offers an interesting contrast between almost fragile buildings and massive stone palaces.

Vigo
Galicia's most populated city, with the most important port. The historic quarter is very charming and well preserved.

Lugo
Lugo is surrounded by Roman walls which are perfectly preserved, and has a beautiful Romanesque cathedral.

Ourense


Located inland, also has a beautiful Romanesque cathedral.

Pontevedra
This province is said to be one of the most beautiful of Spain, thanks to the marvelous landscapes of Rías Baixas. The city itself offers an outstanding monumental center.