More Information
Plan your Trip
Around the Alhambra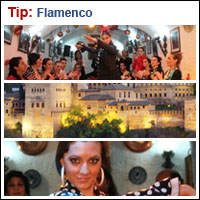 Below the Alhambra, at the Paseo de los Tristes, there are many bars offering "Tapas". Specially during the warm season, when all the summer terraces are open, this is the right place to begin a long granadinian night - or to put yourself in the right mood to visit one of those concerts in the magic gardens of Generalife.
Albaicin
In this so typical part of the town you'll find again numerous popular locals, which offer "Tapas" for the hungry - specially liked are snails and fried fish - and beer, wine and refreshments for the thirsty.
Campo del Principe
This region is one of the most charming of Granada, again with an alive gastronomy.
Pedro Antonio de Alarcón
In this newer area of the town, between the streets of Pedro Antonio de Alarcón and Martinez de la Rosa, meet students, moderns, super-moderns and all the others to enjoy in locals of any style.
Las Cuevas del Sacromonte
Here, at the caves of the gypsies in the mountain of Sacromonte, you will find "Zambra". (Samra in Arabian language means a spontaneous celebration of dance and music, that takes all the night long) The gypsies have revived this tradition and make spectacles for tourists and other pleasure-seekers.

More Information: Andalusia | Granada | Sightseeing | The Alhambra | Excursions | Fiestas and Folklore | Gastronomy | Photo Tour