More Information
Plan your Trip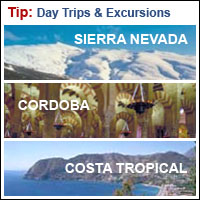 Costa Tropical
The Costa Tropical consists of several romantic bays with wide sand beaches. From the sea you can see the mountain range of Sierra Nevada, which is covered by snow during all the year, and allows in a unique way to combine swimming and skiing.

Among the most beautiful beaches are:

Salobreña, with a castle on a high rock that seems to be floating on a sea of green plants.

Almuñecar, a romantic village with a Roman aqueduct.

La Herradura, a fishing village with a great view over the sea and the beautiful beaches.

Torrenueva, with the widest beach in all the region, Calahonda, and finally Castell de Ferro, with an old Arabian fortress. This chain of mountains, located between Costa del Sol and Sierra Nevada, is considered one of the most beautiful regions of Spain. The popular customs are highly interesting as well, combining Moorish and Christian traditions.

Among the most beautiful villages are:

Lanjarón, well known for its thermal springs, one of Spain's best reputated spas.

Orvija, with the fortress of the Counts of Sastago.

Soportuja, Mecina and Valor, all of them located in a marvelous landscape, and Pampaneira,

the beautiful white village.

Bubión and Capileira, both very typical villages in the regional style.

Finally, Trevelez,

the village of Spain with highest location, in a fantastic landscape. At the same time, it is the home of the famous Trevelez ham.
Alhama - Loja - Santa Fe
Alhama, a nice bathing resort with a great view on the Sierra Nevada, has old Arabian bathes and a remarkable church, Iglesia Mayor. Close to it there are the impressive water-falls of Los Infiernos.

Loja, located in the valley of Genil river, belongs to the province of Granada, but is geographically much closer to Cordoba. It is a typical white village in the Andalusian style, and has several important monuments, as the Alcazaba, an old Arabian fortress from 895, and the Church of San Gabriel, from 16th century.

Santa Fe was the head quarter of theCatholic Kings when they reconquered Granada from the Moors. Here were also signed the contracts with Christopher Columbus before his travel to America. Worth seeing are the town's three doors, built during that epoch, in 1491.
Pinos Puente - Illora - Montefrio
16 km out of Granada we find the village Pinos Puente with its highly interesting Moorish bridge.

Illura has been an important Roman settlement, and is dominated by the majestic church Iglesia de la Encarnación, from the time of King Charles V.

Close to Castillejo there are the remains of the prehistorical Iberian settlement of Hipo-Nova.

Close to it, in the middle of a beautiful mountain range, is Montefrio, with its spectacular castle, Castillo de la Villa, built between 1486 and 1507 over an old fortress of Moorish King Aben-Ismael III. Additionally, you may visit the churches Iglesia de la Encarnación, in french neoclassic style, and Iglesia de San Antonio, in plateresque style.
Izllanoz - Guadix - La Calahorra - Baza - Huescar
Illanoz, was an important Roman settlement, of which remains a bridge. Arabians left their traces here as well with a castle, Castillo de los Almendros.

Guadix,

Roman and Arabian as well, has to offer a unique attraction: Casas Cuevas, houses digged into the earth like caves. Some of them are inhabited until today. Interesting are also the Alcazaba, the Renaissance cathedral and the church Iglesia de Santiago.

Baza is well known, because here was found the prehistorical polychrome figure Iberian Lady, a copy of which is exposed in the town's Archaeological Museum. Interesting are also the Arabian bathes and the monastery, Colegiata.

The historians among us will specially like Huescar as well, where they can find cave-paintings, Roman mosaics and the Necropolis of Tutugi.

La Calahorra has a splendid Renaissance castle. This is a paradise for the fans of winter-sports, with 250 days of sun per year. In the higher regions you can ski during all the year, in the lower regions from November to May. Motorised visitors (perhaps only, if they are free from giddiness) should not leave out a trip over Carretera Granada-Veleta, Europe's highest road, with a fantastic view point, Balcón de Canales, at kilometer 14.

More Information: Andalusia | Granada | Sightseeing | The Alhambra | Fiestas and Folklore | Gastronomy | Nightlife | Photo Tour