More Information
Destinations
Plan your Trip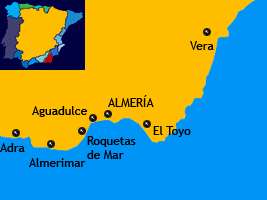 The Gulf of Almeria, often referred to as the "Costa de Almeria", is a 217 km long coastline in the province of Almeria in the southeast of Andalucia, between the provinces of Granada and Murcia.

This scenic coast is very varied, we find wide and long sandy beaches as well as small bays, dry desert landscapes as well as green oases, fruit and vegetable plantations, forests and mighty mountain ranges.

The sun shines over 3,000 hours a year here, and the sky is usually cloudless and bright. The climate is subtropical, Mediterranean, hot and dry. The year-round average temperature is 18/19 º C and in winter the water temperature is warmer than the air temperature, which makes Almeria an attractive tourist destination all year round.

The dramatic desert landscapes of Almeria have been discovered by the film industry too, and several far-west movies have been filmed here as well as "Indiana Jones", "Conan the Barbarian" and "The Last Crusade" by Steven Spielberg , just to name a few.

Along the coast of Almeria there are still also numerous pristine beaches and little inhabited landscapes. Only in some resorts, tourist centers have been formed. These were inserted gently into the beautiful surroundings, with excellent modern structures. The most famous include: Adra, Almerimar, Roquetas de Mar, Aguadulce, El Toyo and Vera.

At these beaches you furthermore can enjoy the privilege of spending your holidays in the immediate vicinity of several nature reserves:

Cabo de Gata - Nijar

is located only 20 minutes from the capital and has one of the most beautiful coastlines of the entire Mediterranean. Here you will find pristine beaches

of dunes and salines, surrounded only by a few fishing villages. The crystal clear water makes this area ideal for divers. Also the flora and fauna around are worth a visit, among other things you can watch the pink flamingos.

In Punta Entinas-Sabinar there are wetlands which are inhabited by many water birds

parallell to the dunes. This area is located on the beach between El Ejido and Roquetas de Mar.

The "Albuferas de Adra" are two salt-water lagoons in the middle of a desert-like environment. They are home to more than 140 protected species of animals, which may be watched from several observatories.

The desert landscape "Desierto de Tabernas"

is unique in Europe. A number of Wild West movies were filmed here, and at the the attraction park "Mini Hollywood"

one can still see the original sceneries.

The romantic mountain range "Sierra Maria - Los Velez" offers snow-capped mountains

and dense forests, with birds of prey like golden eagles or hawkscircling above them. They are also home to rare animals like wild cats, genets and foxes.

The region "Karst en Yesos de Sorbas" is crossed by the River Aguas, which forms canyons and galleries with stalactites and stalagmites

along its arroyo. In particular worth mentioning are the caves "Cuevas del Agua" and "Cueva de Covadura".

The pine forests of the beautiful mountain range "Sierra Alhamilla" is home to many birds of prey, foxes, wild cats, and weasels.