More Information
Destinations
Plan your Trip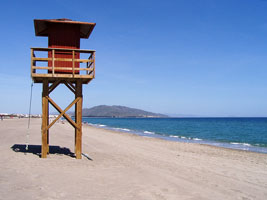 Vera is a popular tourist destination at the Coast of Almeria, and has about 7 km long beautiful beaches which have been awarded the "Blue Flag" for the high quality of both the water and the facilities. One finds a great offer for sports and leisure activities, including diving, windsurfing and paragliding.

Like many towns in the province of Almeria also Vera has on an old history: it was already a Carthaginian settlement called "Barea", which then became the Roman town "Baria".

Among the attractions of more recent dates especially the fortified church of "Nuestra Señora de la Encarnación" and the bullring, one of the oldest in Spain, deserve to be mentioned. But there is no doubt that most visitors will be more than anything be interested in the wonderful beaches.

Right in the town there is the beach "Playa de Puerto Rey", with a length of 2.3 kilometers and a width of 50 meters. This neat and supervised beach disposes of showers and a special access for the disabled.

From the beach "El Playazo", 4 kilometers long and 50 meters wide, and similarly equipped as the above, you have a magnificent view of the surrounding mountains. Here you find a moderate swell, and sometimes a fresh wind which is particularly appreciated by windsurfers. Along the beach there are several restaurants and beach bars. The northern section, about 1.4 kilometers long, is a nudist beach.

Some of the beaches of Vera are a haven for naturists, there is even a naturist hotel with a private, 2.5 km long beach.

The beautiful surroundings of Veras invite to have some excursions, for instance to the desert landscape "Desierto de Tabernas"

, the Natural Park of "Cabo de Gata"

, the mountain range "Sierra de Maria"

, and the "Laguna de Puerto Rey".