More Information
Destinations
Plan your Trip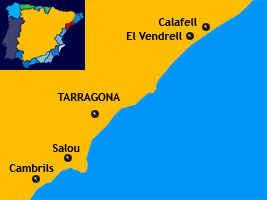 The Costa Dorada ("Golden Coast") is the part of the Spanish Mediterranean coast which belongs to the province of Tarragona. It borders in the north to the Costa del Garraf and in the south to the Costa del Azahar. The name Costa Dorada refers to the golden color of the wide sandy beaches.

For some time now the area of Sitges has got its own denominiation, Costa del Garraf, before also this part of the coast was considered part of the Costa Dorada.

The climate of the Costa Dorada is typically Mediterranean, with mild winters (average temperature 14° C), warm summers (21º to 29º C) and little rainfall.

Over a length of about 90 kilometers we find a variety of beaches, from small bays like Mont-roig del Camp - Miami Platja to steep coasts such as Torredembarra to fine sandy beaches such as Salou. There are also several nudist beaches, with Torn de l'Hospitalet de l'Infant being one of the best known.

The most famous holiday resorts along the Costa Dorada are:

Salou

, located 10 km south-west of Tarragona, offers many hotels, a beautiful beach promenade with palms, modern tourism facilities and fine sandy beaches.

Next to here there is also the theme park "Port Aventura", a paradise for children who can learn by fun and games about the cultures of the Mediterranean, Polynesia, China, Mexico and the Wild West. Within the area of Port Aventura we find several hotels, a water park, golf courses and a beach-club.

Cambrils

is at 11 km from Salou, it offers a modern touristic infrastructure too with numerous hotels and wide sandy beaches as well as pebble beaches.

Somewhat quieter is El Vendrell

, 35 kilometers in the north-east of Tarragona, which is an ideal place for families with children. El Vendrell

is known as the birthplace of the famous cello player Pau Casals, and we can visit a museum dedicated to him and the house where he was born.

Calafell,

37 km north-east of Tarragona, is a picturesque coastal village with narrow alleys and a beautiful Romanesque church. It offers wide sandy beaches

, numerous hotels, restaurants, bars and shops, and an ample offer of sports and leisure facilities, e.g. riding, tennis, golf and parachuting.