More Information
Destinations
Plan your Trip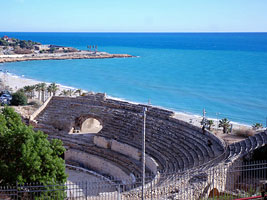 About Tarragona one could say that it is a beautiful town

which is located on a hill above the Mediterranean Sea, that it has many monuments and a nice marina and sandy beaches too, as well as excellent leisure facilities. One could add that Tarragona is the capital of the Costa Dorada.

But the most impressive fact about it is without any doubt that Tarragona is an open air museum of ancient Roman culture with many well conserved buildings. That is also why Tarragona was declared a World Heritage Site by UNESCO.

The Roman city of "Tarraco"

was one of the most important metropolises of the entire province Hispania, today's Spain, and fortunately much of this glory has been conserved until today.

The Old Town of Tarragona is surrounded by a Roman wall

which once was 4 kilometers long. Later, parts of it were modified or fortificated, but still about 1 kilometer of the original wall has been conserved, together with a town gate and three towers.

The ancient Roman Forum consists of two large squares which are surrounded by columns and arcades. On the square which is situated higher there is today the cathedral

, in early Gothic style, on an area where originally a huge Roman temple was located. By a stairway we can reach the lower square, which once has been the largest in the entire Roman empire with a length of 318 meters and a width of 175 meters.

Next to the Forum there was the Roman Circus

, from 1st century, which had a capacity of 25.000 visitors. It has not been used after the 5th century, and its ruins became "integrated" into Tarragona's old town over time.

Also the nearby Roman Theater has been built over in later times, today one can see only a small part of it.

Of the Amphitheater of Tarraco

, which is located outside the town walls next to the sea, large parts are conserved until today. Within this complex we find also ruins of some later buildings: a Gothic basilica and a Romanesque church.

Worth visiting is also the Roman aqueduct "Acueducto de les Ferreres"

, which is located 4 kilometers outside of Tarragona. It is 27 meters high and 217 meters long, and it was until 18th century responsible for the water suppy of the city.

At 6 kilometers from Tarragona there is the Torre de los Escipiones (Tower of the Scipiones)

, a Roman tomb along the historic street Via Augusta which crossed the entire Iberian peninsula, leading from the Pyrenees down to Gades, today's Cadiz.

After so much of a history lesson now the time has come to rest a bit on the outlook terrace of Tarragona, the Balcón del Mediterráneo (Balcony of the Mediterranean)

, and to enjoy the splendid views over the port, the beach and the Amphitheater.