Destinations
Plan your Trip
The Regions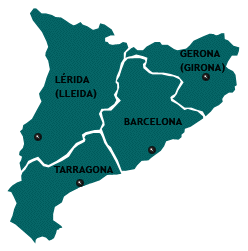 Capital: Barcelona
Provinces: Barcelona, Girona (Gerona), Lleida (Lerida) and Tarragona.

Best known apart from the capital, Barcelona, is of course the Mediterranean coast, Costa Brava an Costa Dorada, with ample beaches and mild climate, doubtlessly a first rate touristical attraction.

One shouldn't forget anyhow that Catalonia offers as well high mountain ranges, the Pyrenees in the north,

the curious formations of Montserrat, the inactive volcans of Garrotxa, and a wide plain area in the region's center.

Catalonia has a very marked culture of its own, most evidently of Mediterranean tradition, and is distinguished of most other Spanish regions in several aspects, not at least by its language, Catalonian (although everybody speaks and understands Castilian Spanish perfectly). Certainly it is one of the most cosmopolitan places in Spain, thanks to its long tradition of international commerce.

The coast offers ideal facilities for all sorts of water sports, but everywhere you will realize about that special talent to combine the beauty of nature or monuments with modern attractions, a main reason why Catalonia developed into one of the preferred touristical destinations.

Catalonia's excellent gastronomy is characterized by seafood, rice dishes, wines of great international reputation and traditional desserts like the famous "Catalonian Cream".


Major attractions:

Barcelona
Catalonia's capital, located at the Mediterranean Sea, offers the structures of a true metropole. Among its most outstanding sights are the Gothic Quarter and the works of architect Antoni Gaudi.

Costa Brava


Certainly one of the most famous Spanish coasts, stretching from the north of Barcelona over the province of Girona. It is of great natural beauty, with steep cliffs and romantic small coves.

Girona
A beautiful historic city with the old Jewish Quarter among its major sights.

Figueres
The birthplace of great painter Salvador Dali. Its main attraction is of course the museum

dedicated to the artist, showing a collection of some of his finest works

.

Costa Dorada
The Golden Coast, stretching from south of Costa del Garraf to Costa del Azahar, offers apart from its great beaches and beautiful landscapes towns of outstanding beauty.

Tarragona


An important city of the Roman empire, still preserving outstanding monuments: the aquaeductus, an amphitheater and the Tomb of the Scipios, located at the seaside. Close to Tarragona there are the monasteries Santes Creus and Santa Maria de Poblet, both of high historic-artistic interest.

Lleida (Lerida)
Located inland in a mountainous area. Most interesting is its cathedral, "Seo", built between 12th and 15th century.