More Information
Plan your Trip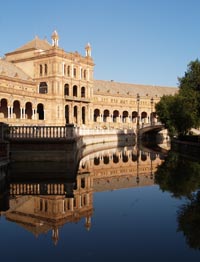 Seville certainly is one of the most beloved places by visitors to Spain. Although today Moorish influence is architectonically most evident - Andalusia was occupied by Moors for about 800 years - it has been a cultural center long before. The fertility of this land and its favorised climate with mild winters and about 3000 hours of sun per year (if you ever have visited it in August, where temperatures can arrive to some 47°C, perhaps you will deny to call it favorised) made Phoenicians and Carthaginians settle here. Later came Romans, like almost to any place in Europe, and two of their emperors, Trajan and Hadrian, in fact were born here.

Also lateron Seville was the home of famous and infamous figures of history, the legendary "Don Juan" started from here to conquer the hearts of women across all Europe, while Columbus started from a port close to Seville to discover a new world. Prosper Merimée's "Carmen", who couldn't make her decision between the officer Don José and the bullfighter Escamillo - the consequences you can watch still today in opera houses - was a worker in Seville's old tobacco factory. By the way, this factory serves today as University, a fact that might give you a glimpse on Andalusian talent for improvisation.




When you visit this city, you are in the very heart of Andalusian culture, the center of bullfighting and Flamenco music. Take yourself time and take life easy, as Andalusians use to do, and interrupt sightseeing from time to time to have a few "tapas", those typical "small spanish dishes", and a glass of Sherry wine in one of the probably thousands of bars in this city, and consider a few of the hints on the following pages to make your stay a memorable one.