More Information
Plan your Trip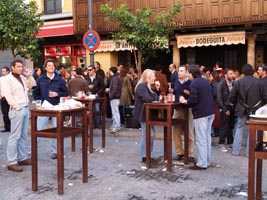 It is said that the inhabitants of Seville are "living in the street", which means that a typical Sevillano never enters his flat if not either for eating or for sleeping. So a lot of ambience around the clock is guaranteed in this city.
Barrio de Santa Cruz
Many of the locals in this traditional part of town close already around midnight, but until then you may have loads of fun. You will find here many typical bars offering delicious "Tapas" and regional wines.
The Center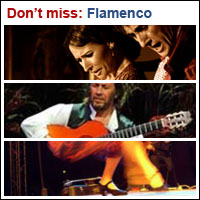 Specially around Iglesia del Salvador and in the area of Alfalfa you will find crowded locals and large groups of youngsters using streets and squares as an extension of their favourite bar.
Park of Maria Luisa
Here you will find nice summer terraces, many of them in the old pavilions of the Exposition of 1929, close to the Theater Lope de Vega. Many locals play dance music, and the party takes until the early morning.
Along the River
Also along the river, specially close to the territory of EXPO '92, you'll find places that are really in fashion. Again many of them are "open-air", and have a really lively ambience.

More Information: Andalusia | Seville | Sightseeing | Monuments | Museums | Churches and Monasteries | Excursions | Fiestas and Folklore | Gastronomy | Photo Tour