More Information
Plan your Trip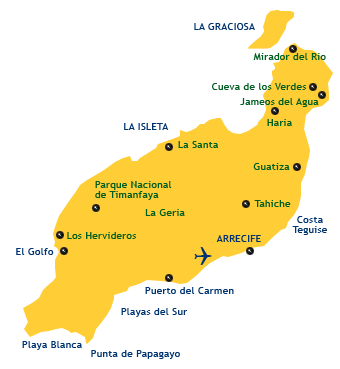 In the Island's South, the best known beaches of Lanzarote
Las Playas del Sur

Those great beaches of fine sand stretch over a length of 20 kilometers, between the island's Southern extreme to the airport.

Playa Blanca:

An excellent beach with tropical ambience and outstanding installations for relaxing holidays.
Las Coloradas,

Small bays and turquoise sea, great for sports fishing.
Punta del Papagayo

Beautiful landscape and finest sand of golden color.
Playa Quemada A very beautiful part of the coast with opulent vegetation; small appartment-houses with gardens.
Puerto del Carmen A thermal spa in tropical surroundings, with a wide beach.
Playa Grande Another very nice beach.
Playa de los Pocillos Impressive volcanic landscape and a small settlement in typical style.
The Small Islands, Paradises in the Ozean
La Isleta

This small island with tropical vegetation and great possibilities for any kind of water-sports is particularly recommandable for diving and fishing.

La Isla Graciosa,

Paradisiac lonely beaches, ideal for those who prefer to avoid mass-tourism.
The Coast of Teguise, the most "authentical" Lanzarote
The part of coast close to the island's former capital, with its unusual landscape of volcanic origins, offers great beaches, as San José, Reducto and Guacimeta. Here you find some of Lanzarote's best hotels and holiday appartments.

More information: Canary Islands | Lanzarote | Excursions | The National Park of Timanfaya | Arrecife | Teguise | Photo Tour