More Information
Plan your Trip
| | | | | | |
| --- | --- | --- | --- | --- | --- |
| The National Park of Timanfaya | | | | | |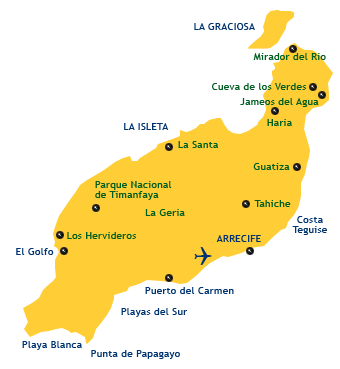 This National Park, with an extension of 200 km2, seems to confront us with an apocalyptical vision: this land was born of hundreds of fire-spitting volcanos.

It is easy to arrive to by car, because it seems that all ways on Lanzarote lead to here. Through the park itself you either move by bus (each quarter of an hour, between 9 a.m. and 6 p.m. in summer and 9 a.m. and 5 p.m. in winter, respectively), or you choose the by far more adventurous alternative and rent a ... camel!



In or on your preferred transport medium you will traverse a sea of petrified lava

and volcanic ashes. Some of the craters of the volcano Montaña de Fuego

("Mountain of Fire") are still active, and just centimeters from the surface temperature arrives to some 400ºC. If you put water on a crater, it will vaporize in a fraction of a second, and if you put small branches there, they will start to burn immediately.

. In some of the Restaurants in Timanfaya you even can have your steak grilled on a volcanic crater.

After such a kind of lunch you certainly will be still more receptive for the miracles that nature has done here.

The last great volcanic out-break on Lanzarote was, by the way, in 1732, when large parts of the island were destroyed. In 1824 some smaller craters broke out again.

More information: Canary Islands | Lanzarote | The Beaches | Excursions | Arrecife | Teguise | Photo Tour