More Information
Plan your Trip
| | | | | | |
| --- | --- | --- | --- | --- | --- |
| LANZAROTE: Landing on the Moon | | | | | |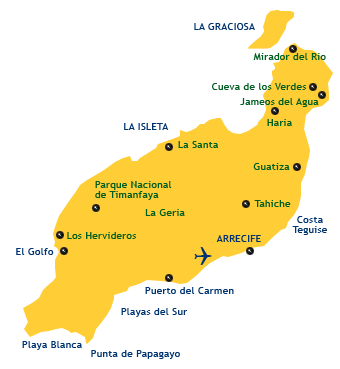 Lanzarote is different, not only compared to the other islands, but to everything else on this planet. This extraordinary landscape seems to be of another world, and the inhabitants of the islands use to say that God forgot of Lanzarote on the Seventh Day of the Creation.

Lanzarote is of volcanic origin, as the other islands of the archipelago as well, but here volcanos have been active still in 18th and 19th century. Great parts of its surface are covered with ashes and lava, making you feel that you were on the moon.

Anyhow, Lanzarote's inhabitants made a great effort to cultivate this land, and today you find large plantations of fruits and vegetables. Most surprising is perhaps the region of Geria, with vineyards between volcanic craters.

Not to forget about are also the works of great Canarian architect and artist Cesar Manrique, adding more attractions to this unique island.