More Information
Destinations
Plan your Trip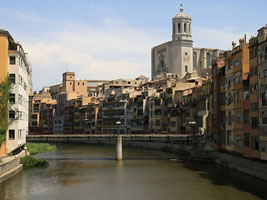 The capital of the Costa Brava, Girona (in Spanish: Gerona) is located about 100 km north of Barcelona and 60 Km. from France. Girona was founded already by the Romans, its latin name was Gerunda.

The historic center is surroudned by thick walls, and is worth visiting because it is very well conserved. Here are the most important monuments:

The Cathedral of Santa Maria

, built between the 11th and the 18th century, has a Baroque facade, with Romanesque, Gothic and Renaissance elements.

At the same square we find as well two beautiful buildings: the Renaissance Palace of Justice, "Casa Pastors", and the "Pia Almoina"

, a Gothic building from 14th century which is today the seat of the chamber of architects.

Worth seeing is also the former jewish quarter Juderia (also "Call Jueu")

, with its narrow medieval alleys.

The Moorish Bathes

were built in 1194 in Romanesque style, imitating earlier Moorish installations. The were used until the 15th century.

Girona is crossed by the river Oņar, the part on the right bank is called "Barrio Viejo", the one on the left bank "Barrio de Mercadal". The two parts of the town are linked by four bridges, of which the stone bridge "Pont de Isabel II", from 1849, and the iron bridge "Pont de Eiffel"

, from 1876, are the most beautiful.

A very characteristic part of Girona are also the "Casas del Oņar"

, multicolored houses which seem to be hanging above the river bank.