More Information
Destinations
Plan your Trip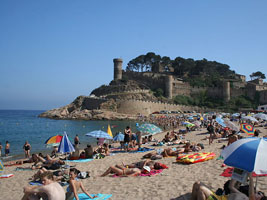 Tossa de Mar is one of the most popular holiday resorts on the Costa Brava and is located almost exactly halfway between Barcelona and the French border.

Perhaps the most emblematic building in Tossa de Mar is the "Vila Vella", a medieval fortress with seven towers which is located directly at the beach. It was built probably in the 12th century to protect against attacking pirates. Inside the fortress there is an art museum in which as well archaeological findings as paintings and sculptures are on display. The best-known works are paintings of Chagall and Serra, showing the scenery around Tossa de Mar.

Close to the fortress there is also the ruin of a Roman Villa from the 4th century.

The beach "d'Es Codolar", located at the left side of the fortress, is a coarse sand beach.

The largest, but also most lively beach, is the Playa de Tossa (also:"Platja Gran") with a length of 400 meters and a width of 50 meters. It adjoins to the old town of Tossa and beach promenade with many cafeterias and restaurants.

In the north part there is the "Playa del Reig", a beach with coarse sand especially popular for divers.

Passing a promenade with two view points, we reach the beach "Playa de la Mar Menuda" (also called "Sa Bauma"). Here we find a blend of coarse and fine sand.

Further north the coast becomes rocky and abrupt. Here we find the natural pool "la Banyera de Ses Dones" with beautiful rock formations.