More Information
Destinations
Plan your Trip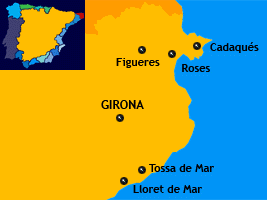 The Costa Brava is the northeastern part of the Spanish Mediterranean coast which belongs to the province of Girona. It extends over a length of 214 kilometers from the French border to the Costa del Maresme, which already belongs to Barcelona.

The name "Costa Brava" (Wild Coast) probably derives from the rocky parts of the coastline. There are however also beautiful bays, in which the best known holiday resorts are located.

By the middle of the 20th century, these places were just small fishing villages. The scenic beauty of the region attracted many artists such as Marc Chagall, Picasso, Rusiñol und Salvador Dali.

During the 1950ies more and more tourists came to visit the coast, and from about 1960 the villages which had sandy beaches began to develop into tourist centers. So today places like Tossa de Mar or Lloret de Mar dispose of numerous hotels and leisure facilities, while the villages along the rocky parts of the Costa Brava remained almost untouched by tourism.

One of these picturesque coast towns, which can be reached only by a winding mountain road, is Cadaqués

, where the famous painter Salvador Dali lived. His home can still be visited, and if you wish to follow his tracks, there are many more interesting places to visit along the Costa Brava:

The Theater-Museum Dali in Figueres

, 38 km west of Cadaqués. This highly unusual building was designed by Dali himself, and many of the paintings and sculptures of the artist, but also scenifications like the famous "Room of Mae West"

can be seen here.

The Castle Gala-Dali in Púbol

, 50 km south of Figueres and 94 km north of Tossa de Mar, was Dalis last home after the death of his wife Gala. Dali left the facade of this 11th century castle untouched, but redesigned its interior completely

. Among the exponats there are not only artworks of Dali, but also personal belongings and a collection of haute-couture dresses of Gala.

Along the Costa Brava there are also several archeological places, which show that the coast was inhabited already before the arrival of Greeks and Romans.

In the old-iberian settlement Ullastret

there are remainings of houses, wells, granaries and temples from the 6th to 2nd century BC.

The ruins of another iberian settlement, Puig de Castellet

, dating back to the 3rd century BC, are located next to Lloret de Mar. We can still see the rests of a town wall and of several houses.

The historic town Ampuries

was founded by the Greeks in the 6th century BC, and became Roman in the 2nd century BC. wurde im 6. Jahrhundert v. Chr. von den Griechen gegründet und wurde ab dem 2. Jahrhundert v. Chr. römisch. Here we can see the ruins of Roman houses with paintings and mosaics, the rests of the forum, the amphitheater, and the sewerage.