More Information
Plan your Trip
| | | | | | |
| --- | --- | --- | --- | --- | --- |
| Madrid: Fiestas and Folklore | | | | | |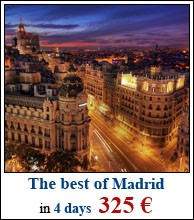 La Villa, the "village", is how the inhabitants of Madrid call their city, and in many quarters there are still alive traditions of a time before all those villages have melted together into Spain's capital.

The celebrations of New Year, anyhow, are spectacular. Thousands of people flock together at Puerta del Sol. In the rhythm of the beats of the big clock at midnight, everybody tries to eat twelve grapes. That shall bring good luck for the coming year, and all the Spaniards who are not there, watch the event on TV. After midnight, all the city becomes the scenery of a great party.

On 5th of January takes place, as in many Spanish towns, the procession of the three Magi.

On May 15th there is the Fiesta de San Isidro to the honour of Madrid's patron, one of the most spectacular events in all the year with numerous concerts and other kinds of public performances, and the the best bullfights of all the season.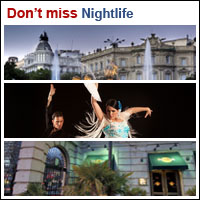 During July and August the town-hall organizes a series of cultural events for what they call Veranos de la Villa, "Summer in the Village".

The festival Verbena de la Paloma, from 6th to 15th of August, shows best the popular traditions of Madrid, with regional costumes and dances, the so-called Chotis.

During September the concert-houses and theaters have their best performances, while in November you may visit Madrid's International Jazz-Festival. At the same time there are also the traditional Fiestas de la Almudena.

In December there is an exposition of Christmas cribs at Plaza Mayor.

More Information: Madrid | Sightseeing | Monuments | Museums | Excursions | Gastronomy | Nightlife | Photo Tour