More Information
Plan your Trip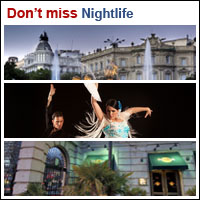 There are many people who say that Madrid were Europe's capital of Night Life. Certainly this page doesn't offer enough room to treat the subject profoundly, but be sure: here you will find something for your taste - whatever taste you may have ...

Find below a few hints, about which regions are among the preferred ones by Madrid's "Nomades of the Night", and don't be surprised if somewhere, at 4 a.m. or so, you will get involved in a traffic jam. Madrileños, like all Spaniards in general, don't stay in the same local for all the night, they prefer to change all the time, from one to the other. However, at 4 a.m. few people are on their way to work!
Santa Ana and Huertas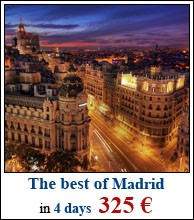 Between Puerta del Sol and Plaza de Santa Ana, specially in a street called Calle Huertas, you will meet a lot of folks. This region is ideal specially when you move around without having a car, as the many pubs, taverns, theater-cafés and fashionable bars here are pretty close one to each other, and you manage very well by foot.
Alonso Martinez and Bilbao
Thus are the names of two subway-stations, both of them in the heart of very lively areas. From the first one, try the locals around Plaza de Santa Barbara. Close to the other you will find, among others, Madrid's most famous discoteque, Pacha, but with a really hard-hearted door-keeper.
Argüelles and Moncloa - Ciudad Universitaria
Two more subway-stations, and also if you are not a student you may enjoy the ambience of Madrid's universitary quarter.
In winter: Traditional Cafés
There are numerous traditional cafés in Madrid, many of them decorated in the style of La "Belle Epoque", and when the cold wind is blowing outside you may want to check out if there are still artists and writers meeting in them, like in the famous Café Gijon.


In Summer: Terraces
In hot summer-nights there is hardly something better than to have a drink in one of the many beautiful terraces, where you will find amounts of people until late in the night. In Paseo de la Castellana meet the beautiful people and all those who think they are, specially between Cuzco and Paseo del Prado. In Gran Via, on the other hand, you'll see representants of any kind of society that exists in Madrid, from middle-aged couples to vagabonds.

More Information: Madrid | Sightseeing | Monuments | Museums | Excursions | Fiestas and Folklore | Gastronomy | Photo Tour