More Information
Plan your Trip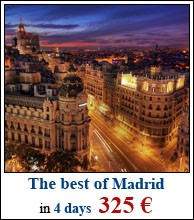 Before 16th century:
Walls of Madrid
Cuesta de la Vega. Remains of the historical fortifications of the town, of Moorish (9th and 10th century) and Christian (12th and 13th century) origins.

Iglesia de San Nicolás de los Servitas
San Nicolás. 15th century church, with a 12th century Mudejar-tower.

Iglesia de San Pedro el Grande
Nuncio, 14. 15th century church with a Mudejar-tower.

Casa de los Lujanes
Plaza de la Villa. 15th century palace with a remarkable gothic portal.
16th century:
Capilla del Obispo
Plaza de la Paja, 9. Chapel with a valuable portal and altar in Renaissance style. Specially interesting is the tomb of archbishop Carvajal, made of alabaster.

Casa Cisneros
Plaza de la Villa, 4. Plateresque style palce, restored and modified at the beginning of this century.

Monasterio de las Descalzas Reales
Plaza de las Descalzas. Monastery with facade in plateresque style and beautiful Renaissance staircase. Shows many works of high artistic value.

Casa de las Siete Chimeneas
Plaza del Rey, 1. This beautiful 16th century palace is used today as Ministry of Culture.

Bridge of Segovia
Valuable work of architect Juan de Herrera, consisting of 9 arcs.
17th century:
Casa de la Panadería


Plaza Mayor. A very beautiful house with remarkable wall-paintings.

Monasterio de la Encarnación
Plaza de la Encarnación. Monastery of 17th century, one of the best example of Madrid's typical baroque style, Barroco Madrileño.

Palacio de Uceda (Capitanía)
Calle Mayor, 79 The prototypical example of a 17th century lordly house, a work of Gomez de Mora. Today it is used for military administration (Capitania).

Claustro de San Jerónimo el Real
Moreto, 4. This Monastery is a typical example of the Renaissance style of the early 17th century.

Plaza Mayor


Philip III had built this impressive square between 1617 and 1619, to give additional prestige to his kingdom. The buildings are mostly Renaissance style, in the center there is a statue of the king by Juan de Bolonia and Pietro Tacca. During 17th century this square was the scenery of theater performances and bullfights, and served as meeting-place of the Gremios, the associations of craftsmen. In 1790 the Plaza Mayor was almost completely destroyed by a fire, but rebuilt lateron.

Iglesia Colegiata de San Isidro


Toledo, 37 - 39. This baroque church originally belonged to the monastery Antiguo Colegio Imperial de la Compañía de Jesús.



Casa de la Villa (Townhall)
Plaza de la Villa. Originally projected in 1644 by Juan Gomez de Mora to be a prison, this building became Madrid's townhall when it was finished in 1787.

Convento de las Trinitarias Descalzas
Lope de Vega, 18. Monastery of 17th century.
18th century:
Palacio Real
Calle de Bailén. Madrid's Royal Palace is an impressive example of classisistic italian baroque style. Construction was begun under Philip V by the architects Juvara, Sabatini and Sachetti. Charles III was, in 1714, the first king to have his residence here. In the interior of the palace we find numerous precious rooms, specially remarkable is the Throne Hall. Worth visiting are as well the gardens, Jardines de Sabatini and Campo del Moro.

La Casa de Correos (Post Office)
Puerta del Sol. This building impresses by its facade and the two beautiful interior courts. It was made by french architect Maquet between 1766 and 1768.

La Casa de Postas
Plaza de Pontejos. Neoclassic building by Pedro Arnal, constructed between 1795 and 1800. Today it is used by some departments of the regional government.

Real Casa de Aduanas
Alcalá 5, 7 , 9. Royal Custom office, built by Sabatini between 1761 and 1769.

Museo del Prado


Paseo del Padro. Perhaps the most beautiful neoclassic building of all Madrid

. Built in 1785, it was intended to be a museum of natural history. Having been used as an arsenal during the wars against Napoleon, it became Madrid's Museum of Art in 1819.

Fountain of Cibeles


Paseo del Prado. This beautiful fountain, made after a design by Ventura Rodriguez, is considered one of the landmarks of Madrid.

Fountain of Apollo
Paseo de la Castellana. Another fountain designed by Ventura Rodriguez.

Fountain of Neptune
Paseo de la Castellana. Another fountain designed by Ventura Rodriguez.

Puerta de Alcalá
Plaza de la Independencia. The Door of Alcalá is a beautiful triumphal arch made by Francisco Sabatini in 1778, after the arrival of King Charles III to Madrid.

Botanical Gardens
Paseo del Prado. Planned by Juan de Villanueva in 1811.

Bridge of Toledo
Glorieta de las Pirámides, Plaza del Marqués de Vadillo. Built between 1714 and 1729.

Astronomical Observatory
A work of Juan de la Villanueva, 1790.
19th century:
Plaza de Oriente
This square in the east of the Royal Palace was designed at the time of Joseph Bonaparte, who, after the victory of his brother Napoleon against Spain, took over the government. The French wanted to build a wide boulevard in the style of Champs Elysées in Paris, but the project was stopped by Napoleon's final defeat.

Teatro Real (Opera House)
Plaza de Oriente, Plaza de Isabel II. Madrid's impressive opera house was built in 1818 by Cuatodio Moreno.

Puerta de Toledo
Glorieta de la Puerta de Toledo. A triumphal arch, built in 1817 after the victory against Napoleon's troups.

Palacio del Senado (Senate Palace)
Plaza de la Marina Española. A building of Francisco de Mora, having a fantastic neogothic library of 1883.

Palacio del Congreso
Plaza de las Cortes. Madrid's Palace of congresses is a Renaissance building which was completely reconstructed in 1843. The facade, which is very similar to the original, includes a marvelous neoclassic portal.

Teatro de la Zarzuela
Calle Jovellanos. A theater house specially for Zarzuelas, Spanish operettas. It was built in 1856, imitating the style of Milano's Scala.

Puerta del Sol
This door was, in 15th century, the main entrance to Madrid. Today Puerta del Sol and the square, Plaza del Sol, which was redesigned from 1859 to 1868, form the very center of the Spain's capital. The monumental clock and the statue of a bear are landmarks of Madrid.

National Library and Archaeological Museum
Calles Jorge Juan, Serrano, Villanueva. Built between 1865 and 1896. The library is one of the largest worldwide.

Banco de España
Alcalá, 48 und Paseo del Prado. The National Bank of Spain, built by Adaro y Sainz de la Lastra from 1842 to 1891.

Casón del Buen Retiro
Alfonso XII, 28. A building from 1886, in which are exposed works of great painter Picasso.

Palacio de Cristal (Crystal Palace)
Parque del Retiro. A very beautiful building of metal and glass, built in 1887 as a winter garden for exotic plants.

Sociedad de Autores
Calles de Fernando VI und Pelayo. Perhaps the most beautiful modernistic style building of Madrid.

More Information: Madrid | Sightseeing | Museums | Excursions | Fiestas and Folklore | Gastronomy | Nightlife | Photo Tour