More Information
Plan your Trip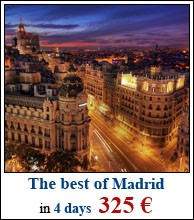 This famous monastery which Philip II had built 50 kilometers out of Madrid is of course a must see for any visitor to Spain's capital. It was constructed during 21 years by architects Juan Bautista de Toledo and Juan de Herrera and impresses by its gigantic measures and its austere style. Among the mayor attractions are the main chapel, Capilla Mayor, the Pantheon with the kings' tombs, the Throne-Hall and the museum in the summer-palace of Philip II.
El Valle de los Caidos
Valley of the Fallen: General Franco had built this colossal monument to the fallen of the Spanish civil war in 1940, and he himself is buried here. It consists of a cross with a height of 150 meters, on top of a rock which was hollowed out to incorporate a church, and it is located 8 kilometers from El Escorial.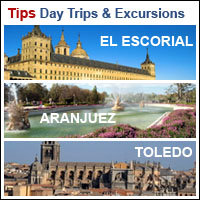 Made famous by Joaquin Rodrigo's Concierto de Aranjuez, this small town attracts for its beautiful palace, Palacio Real, of 16th and 17th century. Of particular interest are the Porcelain-Room and the Throne-Hall.
In Casita del Labrador you may visit the large collection of old clocks and porcelain-works, as well as the beautiful gardens. 30 kilometers out of Madrid is located this old university town which was blooming specially during the Renaissance-epoch. The University, founded in 1498 by Cardinal Cisneros, certainly deserves a visit. More attractions are the 15th century city-walls and the church Iglesia Magistral, the 17th century Convent of Bernardas and Casa de Cervantes, the house of the author of Don Quijote.
Around the town are to be seen remains from prehistorical, Roman and Gothic epochs. This romantic medieval village, located some 50 kilometers from Madrid, is famous for its beautiful main-square, Plaza Mayor, surrounded by arcades. During traditional festivities bullfights and theater-performances take place on this square.
Other sights are the ruins of a 15th century castle and a painting by Goya, which is exposed in the church.
But people of Madrid like to make excursions to Chinchón specially because of its well-reputated gastronomy. And the anisette-brandy made here is known in all the land ...

More Information: Madrid | Sightseeing | Monuments | Museums | Fiestas and Folklore | Gastronomy | Nightlife | Photo Tour