More Information
Plan your Trip
| | | | | | |
| --- | --- | --- | --- | --- | --- |
| Barcelona: Fiestas and Folklore | | | | | |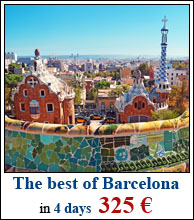 New Year begins in Barcelona like a Carnival party with people in masks in the streets, who - like everywhere in Spain - try to eat 12 grapes during the last 12 seconds of the finishing year. A tradition that is said to bring good luck - if you get it.

January, 5th the procession of the "Three Magi", who will bring presents to the children next morning and so are the Spanish alternative to Santa Claus.

On March, 3rd there is the popular festival of San Medir, again with big processions and choirs singing in the streets.

The festival of Sant Jordi, Catalonia's patron, on April, 23rd is among the most spectacular events.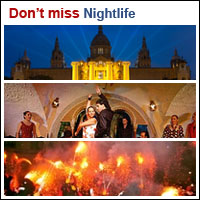 In May take place the poetic Jocs Florals, the "plays of the flowers", and the festival of Sant Ponc in Calle del Hospital.

June: Corpus Christi with processions of traditional and very picturesque masks, and "l'ou com balla", the festival of the "dancing egg", around the cathedral. During the night between 23rd and 24th of June a very special "fiesta" takes place; Sant Joan, a pre-christian celebration with fire, fire works and parties in every street, quarter, town and village of Catalonia. At the end of the month starts the festival of Grec with open-air concerts and dance performances, specially in the "Greek Theater" of Montjuic.

Really picturesque is as well the popular festival of Gracia, a quarter of Barcelona, with its beautifully decorated streets in the middle of August.

The Fiesta de la Mercè on September, 24th offers again processions in the streets, performances of "sardanas", the national dance of Catalonia, and important sports events.

On December, 13th starts the very romantic expositions of Christmas cribs.

During the winter months the performances of opera and concerts in the "Palau de la Musica" arrive to their climax.

More Information: Catalonia | Barcelona | Sightseeing | Monuments | Barcelona of Gaudi | Museums | Excursions | Gastronomy | Nightlife | Barcelona: Photo Tour | Antoni Gaudi: Photo Tour