More Information
Plan your Trip
| | | | | | |
| --- | --- | --- | --- | --- | --- |
| The Barcelona of Antoni Gaudí | | | | | |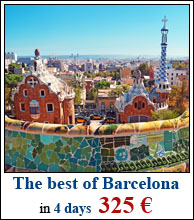 Antoni Gaudi was one of the most important modernist style architects worldwide. Many of his most extraordinary works are to be found in Barcelona. (1884-1887) "Av. de Pedralbes 77" . Through a narrow portal the visitor enters a fantastic world of forms and colors, which the genial architect created for his friend and sponsor, industrialist Eusebi Güell.
The portal of Finca Miralles
"Passeig Manuel Girona". Only a small work for another friend of his, in an interesting contrast to "Casa Calvet", which was made during the same period of time. (1900-1909) "C. Bellesguard". Landmark of Catalonia. This gothic building, formerly summer-residence of king Martí I., was modified by Gaudí in genial harmony with the original. (1888-1889) "Ganduxer, 87". When he built this school, Gaudí evidently was inspired by gothic style and created a masterpiece of simple and clear lines. (1883-1888) "Carrer de les Carolines 18-24". Gaudí's first architectonic work, and a milestone in his carreer. The building reminds to a palace of an Arabian prince, but was made for the owner of a tile factory - material of which Gaudí made ample use. (1906-1910) "Passeig de Gràcia 92". The irregularly curved walls of this building remind of dunes in the desert. When it was made, this building was too futurist for most people, and gained the nickname La Pedrera, "the quarry". Today it is considered a landmark work of modern architecture. (1904-1906) "Passeig de Gracia 43". Another futurist work, with no single straight line at its front. Even the walls are curved and seem to be covered by leather. (1898-1900) "Carrer de Casp". Perhaps the most traditional work of this master of extravagance. That might be the reason why Gaudí received for this building his one and only honorable mention by the city of Barcelona. (1886-1889) "Carrer Nou de la Rambla 3-5". Another work for Eusebi Güell. With its cupola, stairways and impressive windows it seems of giant dimensions, but its base is of only 18 x 12 meters. (1883-1926) "Plaça de la Sagrada Familia". This great cathedral, inspired by gothic style yet a landmark of modern architecture,

is in reality not much more than a facade.

Gaudí died before he could finish his biggest and most beloved project, with galleries that should have room for 1500 singers, 700 children and 5 organs. Will the city of Barcelona ever complete this monumental work? (1900-1914) "Carrer d'Olot". A fascinating scenario of gardens and overdimensional architectonic forms which seem to be born by the ground.

Gaudí created an equilibry that usually only exists in nature, but never in architecture. This small chapel, wonderfully integrated in the landscape, may be visited at some 15 km from the city.

More Information: Catalonia | Barcelona | Sightseeing | Monuments | Museums | Excursions | Fiestas and Folklore | Gastronomy | Nightlife | Barcelona: Photo Tour | Antoni Gaudi: Photo Tour