More Information
Plan your Trip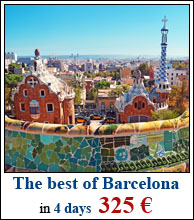 El Ensanche
In this modernist part of the city exist, side to side, three completely different ambiences without ever mixing up. You'll find here locals for the lovers of design, for the traditionalists and the young and informal ones. At Plaça de Catalunya there are some charming terraces, specially visited by young people ...and tourists.
Gracia
Locals are concentrated at the squares of this nice quarter, like Plaza del Sol and Plaza Rius i Taulet. Everyone finds the right thing here, unimportantly if you are looking for a fashionable local of latest design, or just a charming summer-terrace.
La Barceloneta
Originally this was a district of fishermen, but during the last years there has grown an infrastructure of modern gastronomy. You'll find equally elegant and extravagant fish-restaurants as this that fashionable harbour-tavern, visited specially by the young ones ...
Santalo - San Gervasi
Where the streets of Santaló and Mariano Cubi cross each other, you will find the highest concentration of fashionable locals in all the city. Public is young and beautiful, and likes to have a good romp inside the bars and out in the street. ...good music, good drinks and lots of fun ... At Plaza Francesc Maciá you'll meet the cream of the crop of Barcelona's night life.

More Information: Catalonia | Barcelona | Sightseeing | Monuments | Barcelona of Gaudi | Museums | Excursions | Fiestas and Folklore | Gastronomy | Barcelona: Photo Tour | Antoni Gaudi: Photo Tour