More Information
Destinations in Cadiz
Plan your Trip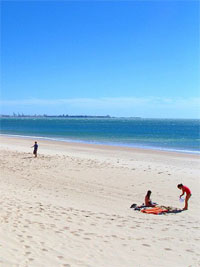 Located in the Bay of Cadiz on the mouth of the river Guadalete, el Puerto de Santa Maria is famous not only for its beaches, but specially for its gastronomy and wines.

El Puerto de Santa Maria has several miles of sand beaches traversed by boardwalks with restaurants and bars. The sand is fine and golden and the water crystal clear. They are also very popular among wind surfers.

The best known beaches are:

"Vista Hermosa Beach" or "Playa del Buzo": open to the Atlantic and with direct views of the city of Cadiz. It has more waves and is slightly cooler than the other beaches of the Bay.

"Beach of La Puntilla": protected by a bank, so the water is calm.

"Levante beach"

is a beach isolated from urbanizations located in the Natural Park of the Bay of Cadiz, within excellent environment. Here the wind blows hard.

"Fuentebravia Beach"

it has a high occupancy in summer and is ideal for scuba diving and fishing.

"Valdelagrana beach": the most visited beach in summer because it has all kinds of equipment, services and infrastructure.

"Beach of La Muralla"

and "La Calita": separated by the ruins of the Castle of Santa Catalina, wild-looking, clean and well cared. In the water there are cliffs, making it ideal for spear fishing and scuba diving.

The monumentality of Puerto de Santa Maria is due to its ancient history, according to legend the town was founded by Menestheus, a king who participated in the Trojan War. We can spend days visiting the numerous monuments and palaces mainly of the seventeenth and eighteenth centuries, like the Castillo de San Marcos (former mosque transformed into a fortified church), several churches, the bullring

, the former fish market, and archaeological findings from the Palaeolithic period, as well as the remains of the oldest Phoenician city

which has been found in Spain.

Its cuisine is rich and varied, with vegetables, meat and of course seafood of extraordinary quality. The regional wines are excellent too, as Puerto de Santa Maria together with Sanlucar and Jerez, form the so called "Sherry triangle"; where we found the producers of the world-renowned sherry wines.