More Information
Destinations in Cadiz
Destinations in Huelva
Plan your Trip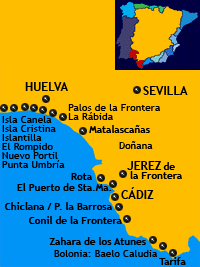 The Costa de la Luz ("Coast of Light") is located in the southwest of Andalusia in the provinces of Huelva and Cadiz along the Atlantic Ocean. The bright sunlight which is reflected by the wide and bright sandy beaches, has given its name to this coast.

The Costa de la Luz has remained untouched by mass tourism in many places and is an almost virgin

paradise. There are also several nature reserves along the coast, including Doñana, the largest national park in Spain.

Here we find wide beaches with crystal clear waters and endless dunes of the finest sand of the entire Iberian Peninsula. In several places, there are of course well-equipped tourist resorts with marinas, golf courses and a wide range of entertainment.

In many places there are the remains of the long and rich history of this coast, starting with prehistoric times, the most ancient civilizations, such as Tartessos, Phoenicians, Greeks and Romans, the time of Muslim domination, the "Reconquista" (re-conquest of Spain) and the discovery of America. Due to its strategic location and its mineral resources, the coast has been fought over many times.

The natural wealth of the coast can still be enjoyed today in the cuisine of the region: fruit and vegetables grow exceptionally well here, specialties include fish and seafood, raw ham ("Jamon") and Iberian cured meats as well as fine wines.

The Costa de la Luz proves, thanks to the fresh wind and mild climate all year round even in winter, to be ideally suited for all types of water sports such as sailing, surfing and paragliding.

The main resorts in the province of Huelva, starting at the Portuguese border in eastern direction, are the beaches of Huelva: Isla Canela, Isla Cristina, Islantilla, La Antilla, Cartaya Beaches; El Rompido and Nuevo Portil, Punta Umbría and Matalascañas, which is adjacent to the Doñana National Park.

Here, on the opposite bank of the river Guadalquivir, start the beaches of the province of Cadiz: Rota, El Puerto De Santa María, Chiclana, Conil De La Frontera, Zahara de los Atunes, Playa de Bolonia and Tarifa, the southernmost tip of the Iberian Peninsula, where the Atlantic Ocean meets the Mediterranean Sea.