More Information
Destinations in Cadiz
Plan your Trip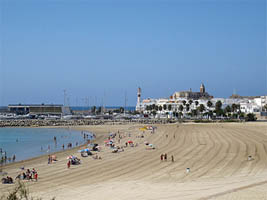 Located in the Bay of Cadiz, Rota is a fascinating destination not only for its wonderful beaches, but also for the beauty of the town itself and its great monuments. Rota is also the place where more festivals are celebrated than in any other town in Spain (Carnival, Easter, Fallas, fairs and pilgrimages).

Rota has been populated since the Bronze Age (as seen in the necropolis found there), but as a town it was founded by the Phoenicians. Subsequently it passed into Roman hand and then to the Moors who made the town a fortress to defend against normannic attacks. Due to its strategic location in the Bay of Cadiz (still today there is a Naval Base), Rota has been fought for heavily during history.

This rich history is reflected in its numerous monuments. Rota also has a large marina

next to the fishing port where we can still see the fishermen executing their traditional tasks. From there we reach the Old Town with the palace "Castillo de Luna",

an Arabian fortress which is nowadays the Town Hall and the Tourist Information Office. Directly opposite there is the church "Iglesia de la O" from 15th and 16th century, with a beautiful late Gothic facade and important works of art in its interior. There are many more palaces and churches in the old town, and five doors of the old town-wall are still conserved.

The old town has direct access to the beach "Playa de la Costilla"

awarded with a "blue flag" for the excellent quality of its golden sands and clear waters and the "Q" for tourist quality (for its excellent security and information services, cleanliness, accessibility, environmental respect, and leisure offerings).

Just at a five minutes drive from Rota you can reach Costa Ballena, a luxury tourist resort along a beautiful beach

, which disposes of a golf course with 36 holes

with splendid ocean views.