More Information
Destinations in Cadiz
Plan your Trip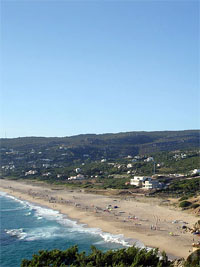 Located near Tarifa, and as its name (Atun = Tuna fish) suggests, it is a fishing village that did not appear on the map until the nineteen-seventies, when the first tourists came here attracted by its magnificent and desert beaches.

Even today, fishermen are engaged in tuna fishing in early summer (period of migration of this species). The tuna that is caught here is of extraordinary quality and is typically sold to the Japanese market, and of course consumed locally.

But when today one thinks of Zahara de los Atunes, it is usually because of its wide beach of fine golden sand and crystal clear water, with the added attraction of its beautiful sunsets and great views from to the African coast.

The beach of Zahara stretches from the village to the cape "Cabo de Gracia". It has received a "blue flag" from the European Union for its excellent quality. As this beach is completely open to the sea, there is usually a fresh wind which makes it an ideal place for wind surfing.

While in summer season there are many tourists, the rest of the year it is a lonely paradise.

Very close to Zahara, southeast in the direction of Tarifa, there is another very special attraction: the Roman ruins of "Baelo Claudia" in the beautiful beach "Playa de Bolonia".