More Information
Destinations
Plan your Trip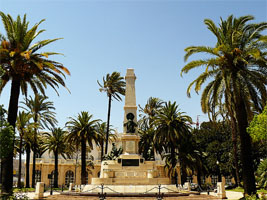 Cartagena is the second largest city in the region of Murcia, and one of the most important ports in Spain. The commercial port is of great economic importance, but in Cartagena there is as well the largest naval base on the Spanish Mediterranean coast.

As the name already indicates, Cartagena was founded by Carthaginians in the 3rd century BC. Even before there had been an old-Iberian settlement called Mastia at this same location.

In the Punic War Cartagena was conquered by the Romans and from then on its Latin name was Carthago Nova, from which derives today's Cartagena. Under the Romans, the city prospered and became one of the most important commercial centers, partly because of nearby silver mines, and partly because the fish sauce Garum, or Liquamen, produced in Cartagena had a high reputation in the Roman empire.

Although Cartagena was destroyed by Vandals in the 5th century, some remarkable ruins of the Roman epoque have remained, especially the Roman Theater

from 1st century BC, which is one of the landmarks of the city.

Next to it there are the ruins of the 13th century cathedral "Catedral de Nuestra Señora de la Asunción"

, which was destroyed irrecoverably during the Spanish Civil War.

Directly above the port there is the fortress "Castillo de la Concepción"

, which was built in 13th century using and integrating large parts of the ancient Roman Amphitheater.

Worth seeing are also the Baroque and Neoclassical churches "Iglesia del Carmen"

, "Santo Domingo"

, and "Santa María de Gracia" as well as the church "Iglesia de la Caridad"

from 19th century, in which you can see an important collection of spanish and italian Baroque paintings.

Also during the Modernism in early 20th century several outstanding buildings have been created: "Palacio Consistorial" (City Hall)

, "Gran Hotel"

, the Casino

and the palace "Palacio de Aguirre"

, which today is home to a museum of modern arts.

However, you won't find beaches in Cartagena, only the huge port. But fortunately the wonderful coast of La Manga del Mar Menor is just a few kilometers away.