More Information
Destinations
Plan your Trip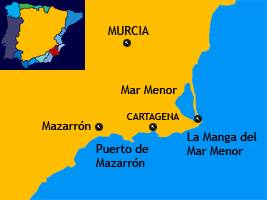 The Costa Calida is an about 250 km long coastline in the region of Murcia. The name, which means "warm coast", comes from the warm water temperatures which are here on average five degrees higher than in the surrounding Mediterranean.

The reason for this is the coast's protected location in the Gulf of Mazarron, a wide gulf which reaches from the cape of Palos (Murcia) to the cape Cabo de Gata in Almeria. The cold currents from the Atlantic Ocean which flow through the Strait of Gibraltar into the Mediterranean simply pass ahead of the Gulf of Mazarron.

In a bay exactly in the center of the Gulf there is the town of Mazarron with its beautiful beaches. South of it we find the largest salt water lagoon in all Europe, El Mar Menor ("the smaller sea"). It is separated from the Mediterrean by a 22 km long sandy promontory, La Manga del Mar Menor.

With its crystalline and warm water the Costa Calida is an ideal location for beach holidays. At the coastline wide sandy beaches alternate with small bays and steep coasts.

At the Costa Calida there are also perfect conditions for all types of water sports, including wind surfing, sailing, waterski and diving.

Thanks to the particular micro-climate, the yearly averave temperature is 18 degrees Celsius, there lots of sunshine and very litte precipitates, the total rainfall being below 340 millimeters. So, the Costa Calida is a recommendable holiday destination all the year round.