More Information
Destinations
Plan your Trip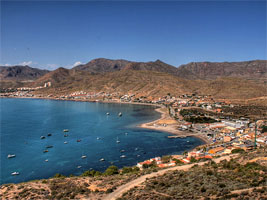 Thanks to its location in a bay, Mazarron is protected from the cool currents from trom the Atlantic Ocean, and the water temperature is 5 degrees Celsius warmer than in the open Mediterranean. Also, there is a very pleasant micro-climate, even in winter the temperatures are about 15 to 20 degrees Celsius.

Around Mazarron there are several wonderful and wide sandy beaches which alternate with small bays and cliffs. The latter are of particular interest to divers because of the beautiful underwater world.

South of Mazarron there is a 26-kilometer long completely undeveloped stretch of beaches - the longest in Spain - with pristine fauna and flora. Off the coast you can watch dolphins and whales.

Puerto de Mazarron

is the touristic center of the area, here you find golden sandy beaches such as "Playa del Puerto de Mazarron", "Playa del Rihuete"

, "Playa de Bahia", "Playa de la Reya", all of them having been awarded the "Blue Flag" of the EU, and the "Playa de la Pava"

.

In southeren direction there are more great sandy beaches, "El Castellar"

(also awarded with a "Blue Flag"), "Bolnuevo", "El Rincon", "Cobaticas", "Percheles" and "Las Minas".

In the south of Puerto de Mazarron there are also several bays with nudist beaches, starting in Puntabela. These beaches are mostly of coarse sand or gravel, except "Cala Desnuda" which has fine grey sand.

Apart of the beaches, there are some more remarkable sights:

Ahead of the beach "Playa de la Isla" two Phoenician ships have been found, one of them the oldest and best conserved ever. In a documentation center you can see a replica of the ship in the scale of 1:3, as well as audiovisual presentations.

Furthermore, you can visit in Puerto de Mazarron the ruins of an ancient Roman salt fish factory.

The town of Mazarron is located about 5 kilometers inland from the beach, at the foot of the "volcanoes of Mazarron" which are extinct for a long time. Erosion has created from the dried lava streams of the volcano Bolnuevo strange rock formations

which are known as "Ciudad Encantada de Bolnuevo", meaning "Enchanted Town of the Bolnuevo". In the town itself, the church of San Andrés, in typical Mudejar style, the monastery Convento de la Purísimas, the ruins of the castle Castillo de los Vélez, the modernist City Hall and the also modernist Old Cultural Association should be mentioned.