More Information
Destinations
Plan your Trip
| | | | | | |
| --- | --- | --- | --- | --- | --- |
| MURCIA "The vegetable garden of Europe" | | | | | |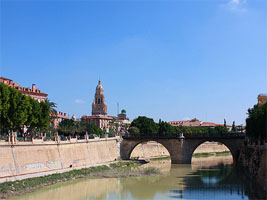 The city of Murcia is situated on the banks of the river Segura, surrounded by fertile landscapes with huge fruit and vegetable plantations. For this reason it is also called the "vegetable garden" of Europe, as fruits, vegetables and spices are exported all over Europe (and beyond).

Vegetarians will like to hear that in the regional cooking of Murcia there are several dishes just made of vegetables, such as the stew "Pisto", several rice dishes with vegetables and beans, and "Zarangollo", a sort of omelette with zucchini and onions. But of course, in Murcia there are delicious meat and fish dishes as well.

Murcia was founded in 831 by the Moorish ruler Abd-Al-Rahman II and soon became a very important town. However from the mighty city walls which were 15 meters high and included 95 towers only a few remnants are left in several places in the city.
Major Attractions
The Cathedral

, with elements from Gothic, Renaissance and Baroque.

The Archiepiscopal Palace

, from 18th century and located at the same square as the cathedral.

The Real Casino is a magnificent building from 19th century with classic as well as modernistic elements. Magnificent are also its halls and courtyards, such as the "Patio Arabe"

which was inspired by Moorish palaces like the Alhambra in Granada or the Alcazar in Seville, the "Galería"

, the "Patio Pompeyano"

which was inspired by ancient Roman palaces, and many more.

The Theater Romea

(19th century) is an elegant neoclassical and modernistic building made of pink and grey stone. It is considered one of the most important theaters in Spain.

The Museum Salzillo is dedicated to one of the masters of religious baroque arts, the sculptor Francisco Salzillo

.

From the promenade Paseo del Malecon you can enjoy beautiful views over the surrounding landscapes.

Concerning contemporary architecture, we may mention two bridges designed by Santiago Calatrava for the city of Murcia; the "Pasarela Jorge Manrique" Bridge

and the "Puente del Hospital" (Hospital Bridge)

.

Every Saturday at 11 a.m. the municipality of Murcia offers a free guided tour of the major sights of the city. Prior reservation is however required, with information being available at the tourist office on the Cardenal Belluga square on which also the Cathedral and the Archiepiscopal Palace are located, and which is the starting point for the tours.