Destinations
Plan your Trip
The Regions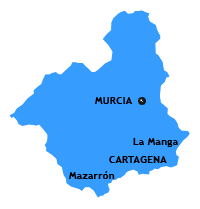 Capital: Murcia
Provinces: Murcia

Murcia is characterized by its old history of commerce and agriculture. Already its original inhabitants, Iberian tribes, established commercial relations with Phoenicians and Greeks. Lateron it became first a Carthaginean colony, then a Roman colony. (Carthago Nova, today's Cartagena still reminds of that fact). The Moors established effective and modern agricultural production, which still today is an important economic factor, thanks to their advanced technologies.

Of major touristical interest is of course the Mediterranean coast, Costa Calida ("the warm coast"), with beaches of fine sand. The salt-water lagoon Mar Menor and La Manga del Mar Menor offer great possibilities for water sports. The inland is almost desertic, and you may visit several towns which still preserve their medieval structures.

Typical cooking includes stews, salads, roasted meat, rice, and of course great sea-food along the coast. Murcia also produces wine of high quality.


Major attractions:

Murcia
The capital of the region, located inland at the banks of the river Segura. Major attractions include the Baroque cathedral and the spectacular "Real Casino".

Cartagena
The above mentioned Carthaginean Cartago Nova is of great historical importance, with numerous monuments from ancient times until today. It also has the region's most important port.

Mazarron
Due to its protected location in the Gulf of Mazarron, water temperatures are about higher 5°C higher than in the surrounding Mediterranean and its pleasant micro-climate makes it an ideal holiday destination.

La Manga del Mar Menor
"La Manga" is a sandy promontory with great beaches, located inbetween the Mediterranean sea and the largest salt-water lagoon of Europe, the "Mar Menor".