More Information
Destinations
Plan your Trip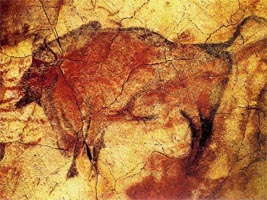 The Cave of Altamira, located at 2 km from Santillana del Mar, has the nickname of "Sistine Chapel" of rupestrian art and has been declared a World Heritage Site by UNESCO.

The cave is 270 meters long and consists of a series of passages and chambers. The main passage varies from two to six meters in height.

Inside the cave there is a large set of paintings made 15,000 years ago. The cave was discovered in 1879 and the surprising thing was not just its age, but the high quality of the paintings and their excellent state of conservation.

The artists used charcoal and ochre or haematite to paint the images, often diluting these pigments to produce variations in intensity and creating an impression of chiaroscuro. They also exploited the natural contours in the cave walls to give their subjects a three-dimensional effect. The Polychrome Ceiling is the most impressive feature of the cave, depicting a herd of extinct Steppe Bison in different poses, two horses, a large doe, and possibly a wild boar.

The paintings also include abstract shapes in addition to animal subjects, as handprints that were created when artists placed their hands on the cave wall and blew pigment over them to leave a negative image. Numerous other caves in northern Spain contain Palaeolithic art, but none is as complex or well-populated as Altamira..
Visits to the cave
Visits to the original cave are restricted to a very limited number of people in order not to endanger its microclimate and the conservation of the paintings.

The New Cave "Neocueva de Altamira" and the Museum, dedicated to the times when the Altamira cave was inhabited, however can be visited without restrictions.

The "Neocueva" is a rigorous and accurate reproduction of the original cave and its paintings

, made by using exactly the same techniques that Palaeolithic painters had used. Here, visitors can learn about how Altamira was 15,000 years ago, the habitat of its inhabitants and their art.

The museum offers an extensive exhibition on everyday life and art at the time of Altamira. Here we find the largest archaeological collection of the Upper Palaeolithic, with over 400 original items from both Altamira and other national and international collections.

In the park surrounding the Altamira Museum we enjoy a vegetation similar to that which accompanied the people of Altamira 15,000 years ago. Through the analysis of pollen found at the site, the area around the cave has been replanted with original species.