More Information
Destinations
Plan your Trip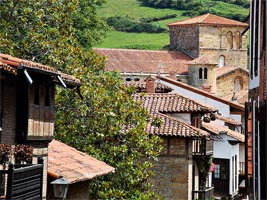 Santillana del Mar is considered one of the most beautiful towns of Spain. Its stone houses, built between the fifteenth and seventeenth centuries, are preserved fully intact.

In a humorous way Santillana is called "the town of the three lies", because it is neither holy (santa), nor flat (llana), nor is it located directly at the sea (del mar). Although the municipality itself overlooks the sea, the town is located inland.

The city grew around "La Colegiata"

, a Romanic monastery of the twelfth century, which was an important center of pilgrimage. In this impressive building we may appreciate important works of art like the carved door at the south side, its beautiful cloister or a seventeenth-century altarpiece.

The main square "Plaza Mayor"

transports us to another century with its beautiful stone buildings.

In the two main streets, we can appreciate the houses of the local nobility

, with wood or iron balconies and coats of arms. At the gates of many houses we find souvenir shops

selling typical products from Cantabria. Many of these stores offer local delicacies such as "sobaos" (a typical cake from Cantabria), Tresviso cheese or anchovies from Santoņa.

The Diocesan Museum is located in the former convent of Regina Coeli

, and it has a magnificent collection of religious art.

The Museum of the Inquisition showcases a private collection of torture instruments from all Europe dating from the fourteenth to the nineteenth centuries.

Santillana del Mar also has a Zoo and Botanical Garden where hundreds of species live together in a singular environment; from the bison to the donkey, from reptiles to butterflies, in a space with exuberant vegetation.

Very near to Santillana we may visit one of the most important prehistoric caves of the world: the famous Cave of Altamira.