Destinations
Plan your Trip
The Regions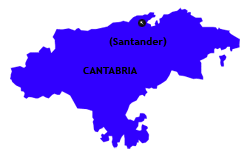 Capital: Santander
Provinces: Cantabria

With a surface of 5.300 square kilometers Cantabria offers extremely varied landscapes and climates. In its mountain ranges, Picos de Europa and the natural preserve of Saja, still live bears, wolves and eagles, and the rivers are full of salmons and trouts. Pico de tres Mares ("peak of the three seas") is a real curiosity: a drop of water that falls here may equally arrive to Atlantic Ocean, by Duero river, the Cantabric Sea, by Nansa river, or the Mediterranean Sea by Ebro river.

In total contrast is the Coast of Cantabria with beautiful bays and romantic fishing villages. Inbetween you will find green valleys and hills.

The capital, Santander,

is located at a beautiful bay. It is an economically extremely active city with an important port. There is an ample cultural offer, specially remarkable are the Menendez y Pelayo International Summer University, and the International Festival. Santander's great sports facilities make it an ideal place for leisure.

At a few kilometers from the capital there is the medieval town Santillana del Mar, and the highly interesting prehistorical Cave of Altamira

. Some other attractions in the surroundings of Santander are the church of Santa Maria de Valverde, or the natural park of Cabarceno, where you will find animals from the five continents in an outstanding and singular landscape.

Finally, Cantabria's colorful popular customs, its artisany and gastronomy make it a holiday destination which certainly will not disappoint.