More Information
Destinations
Plan your Trip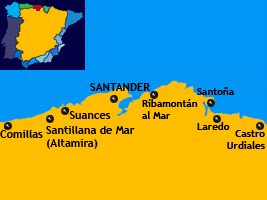 Cantabria is a coastal region and most of its population lives near the sea. Cantabria's capital, Santander is located at a wide bay

which is the largest and best-protected natural port between Bordeaux and La Coruña.

That is why it is not surprising that in Cantabria we find many beautiful coastal towns like the ancient and noble Santillana del Mar, where we can visit the world famous Cave of Altamira.

The coast of Cantabria, like Galicia, has many estuaries, where sandy beaches alternate with steep mountains and cliffs.

Moving from the west to the east, one reaches many sandy beaches and beautiful villages, that's why we will only mention some of the most exceptional destinations:

Comillas is a beautiful town with a harbour and monuments like the "University of Comillas"

and "El Capricho"

, a building by Antoni Gaudí. The beach "Playa de Comillas"

is wide and has white sand.

After a 17 kms drive we arrive to Santillana del Mar, and the Altamira Cave.

Suances

is a beautiful town located at 98 meters above sea level at the mouth of the river Besaya. Because of its location among green fields, cliffs and the sea, it offers splendid views. It is also very monumental and has a lovely port. Its wonderful beaches

have attracted tourists since the nineteenth century.

On the other side of the river there is the beach Playa de Cuchía

, in the municipality of Miengo. This beach with golden sand is well equipped and offers accessibility for handicapped.

The next station is Santander, whose most famous beach is the Playa del Sardinero

.

Further east there is the Playa de Langre

, in the municipality of Ribamontán al Mar. This great sandy beach is surrounded by cliffs. It is frequented by wind surfers and, in the most remote areas, by nudists.

Santoña

is situated in a bay at the foot of a hill, next to the Natural Park of "Las Marismas de Santoña, Victoria y Joyel"

. It is one of the oldest fishing villages in Cantabria and has beautiful monuments and palaces. At its coast we can see three imposing fortresses.

In the north of the town there is the "Playa de Berria"

, surrounded by two mountain ranges. This wonderful beach of fine sand has a gentle slope and has received the "Blue Flag" because of its high quality.

The historic and monumental Laredo

also offers beaches of great beauty and quality. In the town itself, we find the largest beach of Cantabria, the Playa de La Salvé.

The monumental Castro Urdiales

, with its nice port, has a sandy beach in the same town, the "Playa de Brazomar"

.