More Information
Destinations in Huelva
Plan your Trip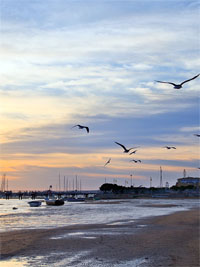 The beach of "El Rompido", as well as that of "Nuevo Portil", belongs to the municipality of Cartaya.

Originally the town was a small fishing village at the mouth of the River Piedras. In the second half of the twentieth century, it was transformed into a beach resort mainly for families and ideal for a quieter vacation.

Hier is located the National Park "Reserva Natural del Río Piedras y Marismas Flecha de El Rompido" which covers an area of 2530 hectares of swamp land between the river "Piedra" and the Atlantic Ocean.

"La Flecha" (the arrow) is a 12 km long strip of sand located in front of the coast

. This is a unique geomorphologic jewel in Spain. It has been formed in about 200 years from alluvial sediments brough by the waves and the wind and it is growing around 40 meters per year.

This unspoilt beach is accessible from "Nuevo Portil" by boat. This peninsula has a rich flora and fauna, including the chameleon which can be found in Europe only in the province of Malaga, the Costa de Luz and the Portuguese Algarve. The beach section "Nueva Umbria"

1,24 miles from "La Antilla", is a nudist beach.

Although now a few hotel complexes have been built, tourism in El Rompido continues beeing quiet and not overcrowded at all. The town has a marina, a sports club and two golf courses, the 36-hole "El Rompido Golf"

and the 18-hole "Nuevo Portil"

courses.

Being in this beach, we recommend a visit to the "Castillo de San Miguel", an old Arab fortress. The most interesting here is not the fortress, but the archaeological findings from the Bronze Age which are there.

Furthermore, in the vicinity there are the amusement parks "Aquopolis Cartaya" and "Karting Cartaya".

Gastronomic specialties, like in the whole Costa de la Luz, are fish and seafood. In El Rompido we recomend to try its great variety of shells (coquinas, almejas, chirlas) and the "barriletes", a crayfish from the river "Piedras", which is highly appreciated in the region.