More Information
Destinations in Huelva
Plan your Trip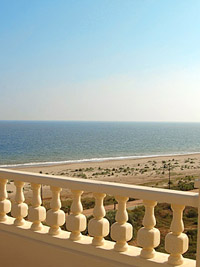 The name "isla" (which means island) comes from being situated on a natural island between the mouths of two rivers: the Guadiana (which makes the border with Portugal) and Carretas (which separates Isla Canela from Isla Cristina). Its only connection to the Iberian peninsula is the bridge to Ayamonte, the municipality to which it belongs.

The 7 km of dunes and beaches of fine white sand are located in the vicinity of the Natural Park "Marismas de Isla Cristina y Ayamonte"

. This gives us an idea of the privilege to spend your summer holidays in a well cared natural environment, yet offering all the facilities and structures.

This beautiful marsh land is inhabited by several rare and very interesting birds. Among them are the avocet and the spoonbill. By bicycle, on foot or on horseback you can explore the trails which start from Ayamonte. Also, with a boat trip over the river Carreras you can get to know the beauty of this landscape.

Isla Canela has exquisite design hotels, a marina, a golf course with 18 holes and many other sports and leisure offerings of first order. Its moderate waves and exceptional weather make it very suitable for windsurfing and kite-surfing.

Isla Canela has been and remains a neighbourhood of fishermen and the fishing tradition is already very old. If we visit the Roman mausoleum "Punta del Moral", we understand why. The archaeological remains prove the existence of a late-Roman town (300 years AD), dedicated to fishing and the manufacturing of salted fish. This tradition can still be enjoyed in the regional cuisine, as the fish and seafood which are found here and along the Costa de la Luz are among the best in Spain.

Something that we should not miss being here is a ferry trip to Vila Real de Santo Antonio (Portugal) or up the Guadiana River about 30 km. to Sanlucar del Guadiana, picturesque little village on a hill along the banks of a river.