More Information
Destinations in Huelva
Plan your Trip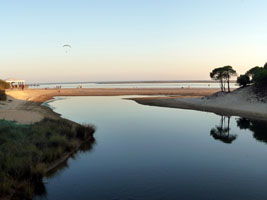 The beach of Nuevo Portil belongs, as well as that of El Rompido, to the community of Cartaya.

It is located next to the beach of El Portil, which belongs to Punta Umbria, however the visitor can hardly distinguish where one begins and the other ends.

Like the other beaches of Huelva, Nuevo Portil is a paradise with huge sand banks. It is surrounded by pines and junipers and is situated at the foot of a rock formation, from where you can enjoy a fantastic view of the Atlantic Ocean.

Quite unique is the fact that Nuevo Portil was a virtually untouched beach until recently, in the last years urbanisations and some hotels have been built. But attention is being paid to ensure perfect harmony with nature.

Even during the summer months Nuevo Portil is not over-crowded and therefore is ideal for those who want to spend a relaxed holiday.

Sports fans won't be disappointed either; there are two golf courses, one with 18 holes

and the other with 36 holes

, a marina and a sports center on the nearby beach of El Rompido.

Furthermore, you can get by boat to the beautiful and virtually untouched Natural Park of "Flecha de El Rompido",

a tongue of land which reaches 12 km into the sea.

The "Flecha de El Rompido" is a unique phenomenon in Spain which has been formed by sediments, brought by wind and waves, within just 200 years, and keeps growing about 40 meters per year. It is also home for numerous protected species. On the "Flecha" is the beach Playa de Nueva Umbria, also located 2 kilometres from La Antilla. This beach

is particularly popular for naturists.

Those interested in history can visit the Moorish castle "Castillo de San Miguel", next to which archaeological remains from the Bronze Age have been found.