More Information
Destinations in Huelva
Plan your Trip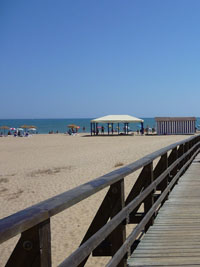 This charming town is located on the west coast of Huelva. It has the name "isla" (island) because it is is mostly surrounded by water.

Isla Cristina is surrounded by beaches and marshes with pine forests in a privileged environment. Its marshes are a "Natural Park"

which is the home of many birds. Among them are the avocet and the spoonbill.

By bicycle, on foot or on horseback you can explore the "Natural Park", which trails start in Ayamonte. Also, with a boat trip over the river Carreras you can get to know the beauty of this landscape.

The twelve kilometres of wonderful white sandy beaches from Isla Cristina get regularly blue flags for their excellence. This attracts in particular many families with children during summer. At the beach and close to it there are a wide range of hotels.

The port of Isla Cristina is the most important of Andalusia regarding fresh fish and is among the most important of all Spain, selling several species of shrimps and lobster. This destination is certainly an ideal place to enjoy excellent sea food.

Isla Cristina is also famous for its sunsets of great beauty, with reflections of reddish tones on the shore in contrast to the blue sea.