More Information
Destinations in Huelva
Plan your Trip
| | | | | | |
| --- | --- | --- | --- | --- | --- |
| PALOS DE LA FRONTERA: La Rabida | | | | | |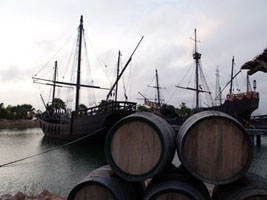 Palos de la Frontera is a charming white village which has preserved its picturesque ambience, despite its burgeoning industry and agriculture.

Palos is considered the "cradle of the Discovery of America" because from its port in 1492 the ships of Christopher Columbus and the Pinzon brothers set off to discover the New World.

The major sights of the village are the medieval church of San Jorge,

where the sailors attended the mess before beginning their journey, the source of La Fontanilla, where they drunk

, and the former home of the Pinzon brothers, which today houses a small nautical museum.

3.5 km from the center there is the "Conjunto Monumental de La Rabida", the heart of the "Route of Columbus". In the Franciscan monastery of Santa Maria de la Rabida,

Columbus spent several years preparing his journey to discover a shorter way to India, during this travel he discovered the continent of America. The monastery dates from the 14th and 15 centuries, has a beautiful cloister in Gothic-Mudejar style, and numerous exhibits and documents from the time of Columbus can be seen.

Next to the monastery we find the old port and the Muelle de las Carabelas ("Dock of the Caravels") which has been faithfully reconstructed, with storage buildings, canteens and shops of various craftsmen

. Particularly impressive are the exact replicas of the three ships of Columbus

. Even the interior of the ships has been modelled, including the cargo, food supplies and figures of mariners

. Today it seems almost inconceivable that with such small vessels it could be possible to cross the ocean.

Close to the port there is also the Foro Iberoamericano, an impressive auditorium with space for up to 4,000 people, built on the occasion of the 500-year anniversary of the discovery of America.

The Isla del Encuentro ("Island of the meeting") represents the first encounter of the discoverers withthe original inhabitants of America and their way of life.

In the Sala de Exposición siglo XV ("Exhibition of the 15th century"), we can take an audio-visual journey through time and get interesting information about the cartographic knowledge of that time and why Columbus was sure to find a shorter sea route to India sailing west into the Atlantic Ocean.

Finally, we may take a stroll through the botanical garden Parque Botánico José Celestino Mutis, where we can see many Latin American plants, a lake with water plants and an outdoor sculpture museum.